Modular Government Buildings Permanent and Temporary Space Solutions

Satellite Shelters, Inc. is a Veteran-Owned, Small Business provider of temporary and permanent space solutions to a wide variety of industries, which includes the government. Since 1972, we have worked on a multitude of projects with contracting officers and government personnel providing innovative and cost-effective modular government buildings and other space solutions.
We have an inventory of modular buildings available to pick from, but we also specialize in the design and build of custom solutions tailored to your needs. We'll work with you from pre-bid through post-project to deliver high quality, durable modular military buildings, government offices and more. View our case studies and additional capabilities below and reach out to us with any questions.
A few Satellite case studies demonstrating solutions for space dilemmas:
Satellite Shelters, Inc. was the Recipient of a Supply Chain Management Supplier Platinum Scorecard in 2008 for On-Time Delivery and Quality Performance.
More of our exceptional products: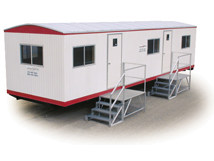 Relocation & installation of customer-owned units including multi-unit complexes
An available fleet of previously rented mobile offices & modular buildings for outright lease or purchase
Refurbish & repair services on customer-owned equipment
Available parts & materials needed for customer-owned units
Bottled water service
First aid kits
Office furniture & supplies
OSHA approved steps & ADA ramps
Portable restrooms with weekly service
Skirting
Wash stations
Water and/or holding tank with weekly service for interior restroom units
And more!