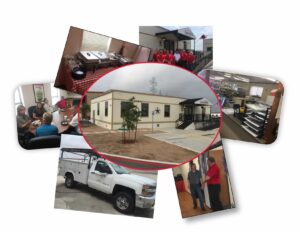 San Antonio, TX – May 25th, 2017 – On Thursday, May 18th, 2017, Satellite Shelters, Inc. celebrated the grand opening of their new branch office and yard services location in Converse, TX that will service the San Antonio, TX market. This is one of the newest locations in the Satellite Shelters chain and replaces the New Braunfels, TX location. The employees are excited to be in a new, upgraded facility that will serve their customers in South Texas for many years to come.
Several members of the executive team were on hand to join in the celebration including Chris Peterson, president of Satellite Shelters. "This new office and the San Antonio team are great examples of the commitment that Satellite Shelters has in this community and to the future growth of this region", Chris stated.
The grand opening festivities gave visitors a chance to tour the new facility, meet the local Satellite team, and enjoy a BBQ lunch. Customers and vendors had the opportunity to win prizes and see a simulation of different modular building products in action, as several mobile offices were on display for walk-throughs.
Since 1972, Satellite Shelters, Inc. has been a provider of mobile offices, modular buildings, portable classrooms, ground-level offices, and blast resistant modules. As a modular building company in San Antonio and 15 other locations nationwide, they serve customers where they are and where their projects take them.