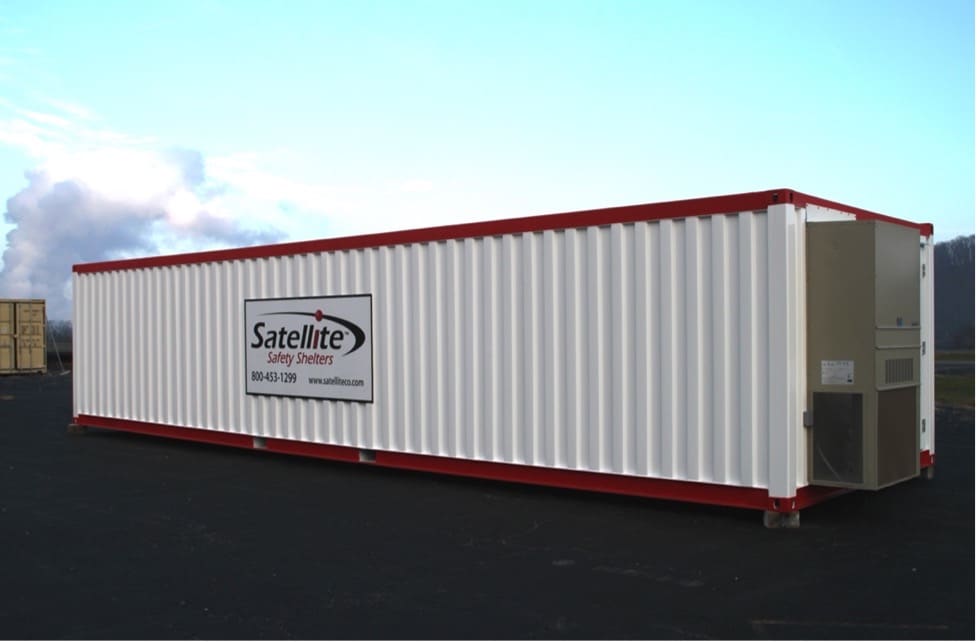 Workforce safety should always be a top priority at any job site. For businesses in the petrochemical, energy, and refining industries, you can never be too cautious. When you call on Satellite Shelters to provide blast resistant modules (BRMs) for your worksite, our biggest priority is to supply carefully crafted spaces that meet your every need while keeping your employees and contractors out of danger.
While blast resistant shelters are built with long-term durability in mind, over time a need for service and maintenance to the unit may arise. This is your guide to everything related to blast resistant modules, from common upkeep services these buildings require to routine maintenance that can help keep them in good shape.
What Is a Blast Resistant Building?
For job sites that exist within the blast zone, a blast resistant modular building is the best option for workforce safety. With guaranteed blast protection for buildings against forces as strong as 8 psi and 200ms in duration, these units are capable of keeping your team out of harm's way when it is needed most.
Blast resistant portable buildings have many uses on job sites, including:
Lunchrooms
Operator offices and meeting rooms
Changing facilities
Defrag and clean-up facilities
Storage
And more
Reasons for Service Requests on Blast Resistant Modules
Due to constant exposure to the elements, it is natural for blast resistant modules to need periodic servicing and maintenance, just like any other building. Read on for some of the most common service requests fielded on these units, as well as how you can do your part to avoid these issues.
HVAC and Electrical Service
All blast resistant buildings are outfitted with oversized HVAC systems that keep the interior climate controlled no matter the outside weather. When it comes to HVAC systems, there is typically an increase in service any time the seasonal weather changes. Common services include replacing the filter and cleaning the coils. In the event you find your HVAC may not be functioning at optimal level, coolant may need to be reloaded or sensors replaced if they are not performing efficiently.
Blast resistant buildings are typically found in environments with increased levels of dust or airborne particles, which makes changing the filter on the HVAC unit regularly an important part of maintenance. These filters should be changed every 30 days in an average work environment, with even more frequent replacements happening if there is excess dust or pollen in the air. Not only will this keep the air inside of the building fresh and safe, but it will also put less stress on the HVAC unit while it runs.
For best results, have the thermostat temperature setting no higher than 72 degrees and no lower than 68. This provides a comfortable temperature for the inside of the building while not putting too much strain on the HVAC unit, making it last longer with less servicing required. Your BRM is equipped with a programmable thermostat, meaning that regulating the internal temperature is as easy as a click of a button.
Doors
If the seal on a door of a blast resistant module isn't sealing properly, or if there are issues with it slamming consistently, these are signs it needs to be serviced. The doors to your blast resistant module are one of the safety points of your building. These extremely heavy-duty doors are made of solid steel and tend to weigh around 450 pounds—watch out for any door hinges or latches coming out of alignment or signs of the door starting to sag. It is good practice to never leave the door of your unit open longer than it takes to enter or exit the building. This protects the occupants and helps keep the door from needing service.
It's also recommended to inspect the door on blast resistant buildings at least every 60 days. During this time, the hinges, latches, and fasteners should be visually checked and tightened if needed, and any worn-out hardware should be replaced. The fluid in the hydraulic arm mechanism located at the top of the door should be checked, too, as this is the piece that prevents it from slamming shut and makes it easier to open and close. Check the door handles at this time as well to see if they need to be tightened or show signs of wear.
Walls, Ceilings, Floors, and Door Jambs
Damage to walls, floors, ceilings, and door jambs does happen occasionally in blast resistant modules and should be addressed right away by in-house maintenance. Or, if there are questions about the damage, contact your local Satellite Representative to discuss. The nature of these buildings' worksites is typically quite rugged, making the inside of the unit subject to heavy wear and tear.
Additionally, boots can track in dirt, mud, and other outside elements. With the heavy foot traffic blast resistant buildings will endure, you may find that the flooring may need some repair, particularly when your building has been on site for a long period of time.
The best way to prevent damage to the interior of a blast resistant shelter is to keep it as clean as possible. This will not only help you notice any repairs needed, but it also makes the work environment healthier for your employees. Remain vigilant with standard maintenance protocols set forth by your company and Satellite Shelters to keep your building in the best working shape.
Preventive Care Tips for Maintaining a Blast Resistant Module
To prevent serious servicing and maintenance work on your blast resistant module, it is always best to be proactive in addressing minor fixes and adjustments as the need arises. Changing the HVAC filter provides optimal efficiency for the unit and can be done in just a few moments. For a quick tutorial on how to change the HVAC's filter, check out this video resource from Satellite!
Make regular inspections of the modules a part of your routine. Check everything from the door closers (which ensures that the door shuts in a controlled manner and prevents it from slamming) to the floor for wear and tear—and don't be afraid to get down and dirty while greasing up door hinges and other high-use joints.
If you have any questions or concerns about your building, the biggest tip we can offer is to simply contact your local Satellite Shelters representative or service department as soon as possible. We are here to help with any problems or answer questions you might have about your blast resistant module rental, no matter how big or small they may seem. If your building needs service or maintenance, we have a network of Satellite specialists and approved vendors, and we're happy to work with you to complete any necessary repairs.
What Should Customers Do When Services Are Needed?
When assistance or services are needed on your blast resistant building, the first step should be to take a couple of minutes and assess the urgency and severity of the situation, laying out all your options. If the fixes are minor, they can usually be handled by your maintenance staff.
However, anything past that should be handled by Satellite Shelters' team of experts. Again, always feel free to reach out to your nearest Satellite branch or sales representative for assistance with any service-related items or issues.
See How Satellite Shelters' Blast Resistant Buildings Can Serve You
If you have any further questions or want to get started with renting, leasing, or purchasing a blast resistant module, get in touch with the Satellite team today. Contact a local representative at one of our offices across the country to speak to a knowledgeable Satellite Shelters expert or request your free quote for a blast resistant portable building online!