Office Trailers and Modular Buildings Near St. Louis, MO
If you're looking for cost-effective, efficient, and safe modular building options, Satellite Shelters in St. Louis, MO, is your go-to option. Located in the suburb of St. Charles, Satellite Shelters provides top-notch modular building options throughout the entire St. Louis metro area, the eastern half of Missouri, southern Illinois, and a few counties in southeast Iowa and northeast Arkansas. St. Louis is known for the Arch, famous pizza, and top-notch high schools and universities. Whether you work on the Hill, downtown, or in our surrounding service areas, you can rest assured that Satellite Shelters can provide great building solutions and even better service.
If you're expanding, renovating, or rebuilding, Satellite Shelters' modular and mobile structures are ideal for any industry. Use our mobile office trailers to expand your workforce and remain flexible. We offer convenient purchase, rental, and lease options to suite your unique needs. Our portable classrooms are vital tools in the education sphere, helping students learn and teachers teach in a comfortable environment. Other offerings include furniture packages and portable steel storage containers—and more!
Satellite Shelters in St. Louis, MO, provides products you want at prices that make sense. Don't overthink it—contact us today.
FREQUENTLY ASKED QUESTIONS ABOUT SATELLITE SHELTERS IN St. Louis, MO
Our St. Louis branch provides modular building solutions to St. Louis, Columbia, and Jefferson City in Missouri, as well as to Evansville, Indiana, and Springfield and Peoria in Illinois. We serve other communities throughout eastern Missouri, Southeast Iowa, southern Illinois, and Northeast Arkansas.
You can rent, purchase, or lease a portable classroom, mobile office, or modular building from our St. Louis branch. Our team of experts can work directly with you to determine the best route to take to your temporary or permanent modular space.
In addition to portable building solutions, we also offer ground-level offices, s-plex modular buildings, and other specialty products to help you make the most of your space.
I joined Satellite in 2020 after over 2 decades of sales and management experience in the mobile and modular industry. Satellite's values of providing quality products and services along with taking care of customers and vendors spoke to me on a personal and professional level. I look forward to building strong and lasting relationships with companies big and small in my territory.
NEED SERVICE NEAR THIS REGION?
Satellite Shelters, Inc. services all of the lower 48 states. For further coverage assistance, find a location near you or visit the neighboring branch location pages below.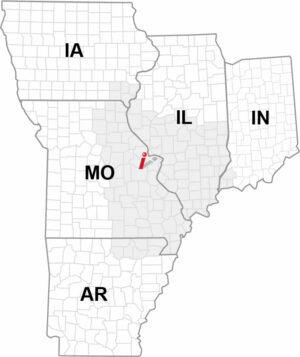 Rent Your Modular Building with Satellite Shelters Today
When you choose Satellite Shelters as your modular building partner, you can simplify your operations no matter what industry you work in. Our robust inventory features modular buildings, portable classrooms, mobile office trailers, steel storage containers, and more. Time is money, and thanks to how quickly modular buildings can be installed, your bottom line is on the line. 
Satellite Shelters in St. Louis, MO, provides quality mobile and modular products and top of the line customer service. Don't overthink it—contact us today.