Satellite Shelters Modular Buildings in San Antonio, TX
Need some flexible space to add to your office, school, or medical building? Satellite Shelters in San Antonio, TX, is here to help. From our office in the suburb of Converse, Satellite Shelters services the entire San Antonio metro, the Austin metro, Corpus Christi, and other counties in central and southern Texas. In San Antonio and these other thriving cities in south Texas, you need versatile buildings at a competitive, cost-effective price.
Our building options include everything from portable classrooms to permanent modular offices and professional-grade blast resistant modules. If you're worried about the Texas heat, don't be. Satellite Shelters buildings are installed with AC units to keep you cool.
They say everything is bigger in Texas, and for Satellite Shelters that means we have a huge commitment to offering exceptional buildings and providing expert service. Ready to get started? Contact our San Antonio, TX, office today!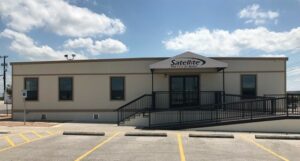 Meet Our San Antonio Sales Team!
"I have more than 25 years of experience in the aerial and heavy equipment rental business along with sales, operations, finance, and customer service. I joined Satellite Shelters in October of 2018 because of a wonderful opportunity that opened up to manage the San Antonio branch. I am very excited to work for such a great company that holds their core values to such a high standard in this industry. I look forward to working with many of our local contractors to provide them with a great product for their projects and make the San Antonio branch a very successful part of the Satellite family."
"I had the opportunity to join the Satellite Shelters team in December 2016. Prior to working in the mobile office and modular building industry, I had years of experience in retail, industrial garment rentals, and in oil and gas. My responsibilities included sales, operations, and management. My immediate impression of Satellite Shelters was a company of integrity and leadership and one that values their customers and employees. I look forward to providing our customers with all of their office and storage space solutions for years to come."
"I have an extensive background in sales working closely with commercial construction, retail, and oil and gas. I integrate that experience with Satellite Shelters' core values to continue to provide outstanding customer service. I am very excited to say that I have been part of the Satellite team since April 2018 and look forward to assisting you with your next mobile or modular office building project."