Satellite Shelters Modular Buildings in San Antonio
Explore our extensive selection of modular building solutions today! Whether you are looking for a mobile office, portable classroom or job-site trailer, we can work with you to find the best modular buildings in San Antonio. We offer an array of high quality options that are sure to fit your needs and industry.
At Satellite Shelters, the customer experience is our top priority. We understand that our customers are looking for cost-effective, versatile buildings, so we've created quality products and services that put customer relationships at the forefront. With each and every transaction, we uphold the highest of standards.

Want to learn more? Contact our branch to find the best mobile offices in San Antonio! We'll find the right fit for you.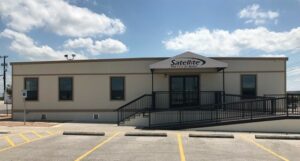 Meet Our San Antonio Sales Team!
"I had the opportunity to join the Satellite Shelters team in December 2016. Prior to working in the mobile office and modular building industry, I had years of experience in retail, the industrial garment rental industry, and in Oil & Gas. My responsibilities included sales, operations, and management. My immediate impression of Satellite Shelters was a company of integrity, leadership, and one that values their customers and employees. I look forward to providing our customers with all of their office and storage space solutions for years to come."
"I have an extensive background in Sales working closely with Commercial Construction, Retail, Oil & Gas Industries. I will integrate that experience with Satellite Shelters' Core Values to continue to provide outstanding customer service. I am very excited to say that I have been part of the Satellite team since April 2018 and look forward to assisting you with your next mobile or modular office building project."