Office Trailers and Mobile Classrooms Near Houston, TX
Located in the growing and thriving city of Houston, TX, our Satellite Shelters facility offers industry-leading modular buildings, office trailers, and disaster recovery services. Our Houston, TX, facility not only covers Houston and suburbs such as Sugar Land, Pasadena, and Galveston—we proudly offer temporary and permanent modular construction to the surrounding counties in southeast Texas, as well as western Louisiana. Whether you work in the highly populated Houston metro or you are looking for mobile offices in Pasadena, our sales reps are happy to work with you and provide the best solution for your unique requirements.
If you need a temporary structure for your business or school, our modular buildings are perfect options. Constructed in a factory and shipped to your site, modular construction drastically cuts down the time before occupancy over traditional construction. Modular buildings are also ideal options for disaster relief in case of a flood, tornado, or hurricane. We offer office trailer rental as well as options to lease, and purchase buildings to suit your unique needs.
Need something permanent? Satellite Shelters can provide that, too. Modular construction is equally equipped to provide permanent or semi-permanent buildings through its factory-constructed methods. Regardless of your specific needs, our Houston, TX, branch of Satellite Shelters can provide a building to suit them. Contact us and get your first modular construction project started today!
FREQUENTLY ASKED QUESTIONS ABOUT SATELLITE SHELTERS IN Houston, TX
Our Houston branch provides portable buildings, mobile offices, and portable classrooms for southeastern Texas and southwestern Louisiana. We serve customers in College Station, Galveston, Beaumont, Pasadena, Texas City, League City, and other communities in Texas. We also offer services and modular products to customers in Lake Charles and other Louisiana towns.
They are! Whether your financial needs lean toward purchasing, renting, or leasing a portable building, office, or classroom, our experts at Satellite Shelters in Houston are happy to help walk you through the financial process of securing your modular project.
We know weather can be volatile along the Gulf Coast, which is why our disaster recovery services help Houston organizations continue operations after disaster strikes. Our mobile offices and temporary modular swing spaces are ideal for emergency health clinics, portable classrooms, meeting space, volunteer centers, and more.
Satellite is a great customer of MMR Constructors we appreciate the work.
I can honestly say this is an outstanding group of people. The staff at Satellite always greets you with a smile in their voice and the willingness to help you meet your deadlines. Satellite's drivers are always courteous, customer-oriented, and willing to oblige. It's my pleasure to work with such fine people. Job well done!
Awesome buying experience. We worked with Georgia and she was super friendly and very helpful. The reason we went with satellite was because of her! She deserves a raise! She got us the trailer we needed for a good price and delivery nice and easy. Thank you!
I joined the Satellite Shelters team in 2018. I look forward to showing our customers The Satellite Way by providing outstanding service and the highest quality mobile and modular solutions in the industry.
I joined Satellite Shelters after working in sales in the oil and gas and construction industry. Prior to my sales career I received my bachelor's degree from Texas A&M University. I look forward to showing our customers the Satellite Way through excellent service and our exceptional fleet of modular building solutions.
I joined Satellite Shelters in May 2012 as an Administrative Assistant for the Houston branch.  After filling every Administrative role and becoming the Senior Administrative Assistant, I realized that I wanted to continue my growth with the Satellite family, so I joined the Sales Team in 2023.  With my extensive knowledge of Satellite and our products, I look forward to helping customers with their projects and using my customer service background to show my customers the "Satellite way", using our company core values.
NEED SERVICE NEAR THIS REGION?
Satellite Shelters, Inc. services all of the lower 48 states. For further coverage assistance, find a location near you or visit the neighboring branch location pages below.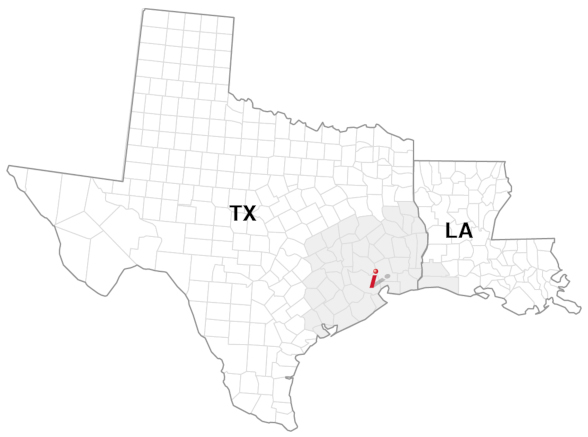 Work with Satellite Shelters of Houston for Modular and Temporary Building Projects
At Satellite shelters, we're proud to offer a variety of temporary and modular building solutions in Houston, Texas! Whether you need a solution for your growing school district, are looking for portable office buildings for sale in Houston, Texas, or are interested in learning more about modular building solutions for your rapidly growing operation, the experts at Satellite Shelters can help you get started! Just reach out to us for more information or a free estimate.