Satellite Shelters Modular Buildings in Atlanta, GA
For the best permanent and temporary modular buildings of all kinds under the bright Atlanta, GA, sun, look no further than Satellite Shelters. While our Atlanta office is in the suburb of Lawrenceville, the branch services the entire state of Georgia and the majority of Alabama, including some neighboring counties in North Carolina and South Carolina, with industry-leading modular construction and top-notch customer service.
Our Atlanta office provides temporary and permanent modular buildings for all types of industries, including construction, government, finance, health care, and more. With modular construction, buildings are constructed and deployed quickly, with less overall costs than traditional construction. Whether you need portable classrooms, modular building design, or mobile offices, we've got the know-how to provide high-quality and affordable buildings. Want other services, too? You got it. We provide additional products such as furniture, holding tanks, portable restrooms, and more.
At Satellite Shelters, we're not only the best at what we do – we put others first. Our employees have extensive experience in both modular construction and customer service and are committed to meeting your construction needs. Contact us to get your free quote today!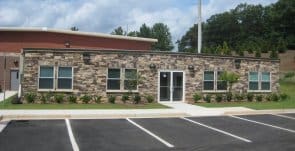 Meet Our Atlanta Sales Team!
"I joined the Satellite team in the Atlanta market in 2008 after being in the equipment rental industry for several years. I have truly hit a home run in finding the best company to call my place of work. Satellite excels in providing solutions for our customers to complete their projects. This is all made possible by our dedicated team at Satellite Shelters in Atlanta."
"I have a solid background in sales, operations, and management covering the commercial construction, finance, and forest products industries. I joined the Satellite Shelters team in 2017 after I read about their core values, which 100% aligned with mine. I look forward to providing mobile/modular office and modular building/complex solutions to a very diverse market."