Satellite Shelters Modular Buildings in Atlanta
Looking for portable buildings or mobile offices in the Atlanta area? We are here to help. Whether you need a prefabricated building, mobile office or construction site trailer, you can count on our team for safe and efficient prefab and modular buildings. We understand your needs and will work hard to find the perfect solution for you.
Our products allow you to adapt to changing facility requirements on short notice, without sacrificing revenue to downtime. When you can get more done with less investment in permanent structures, it's easy to keep operations moving. Discover how our mobile offices in Atlanta can bring your company's productivity to the next level. Our team is committed to safety, attention to detail, and treating your project as if it was our own.
When you're ready to move forward, contact our Atlanta branch office for more information. We're looking forward to hearing from you!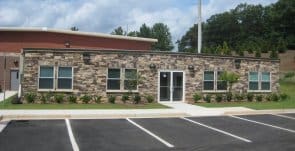 Meet Our Atlanta Sales Team!
"I joined the Satellite team in the Atlanta market in 2008 after being in the equipment rental industry for several years. I have truly hit a home run in finding the best company to call my place of work. Satellite excels in providing solutions for our customers to complete their projects. This is all made possible by our dedicated team at Satellite Shelters in Atlanta."
"I have a solid background in sales, operations, and management covering the commercial construction, finance, and forest products industries. I joined the Satellite Shelters team in 2017 when I read about their Core Values, which 100% aligned with mine. I look forward to providing mobile/modular office and modular building/complex solutions to a very diverse market."