Satellite Shelters Modular Buildings in Chicago, IL
Whether you're looking for permanent modular buildings, temporary classrooms, on-site job trailers, or other modular buildings, Satellite Shelters provides first-class modular space solutions in and around the Windy City. Our Chicago, IL, office is in the suburb of Channahon and services Chicagoland from O'Hare to Wrigley Field and beyond. The branch also services eastern Iowa and the parts of Wisconsin, Michigan, and Indiana that border beautiful Lake Michigan.
Satellite Shelters designs and constructs permanent modular buildings that are ideal for offices, medical facilities, and churches. Our Chicago, IL, branch also produces mobile or temporary buildings, such as container offices, blast-resistant modules, and more. We back our construction with a strong commitment to customer service. With Satellite Shelters, you can trust that your needs are our needs.
With affordable and versatile modular buildings, Satellite Shelters is the ideal partner for your next construction project in and around Chicago, no matter how big or small. We offer multiple payment options, including purchase, lease, or rent. Modular buildings could be your answer to construction woes. Contact Satellite Shelters today!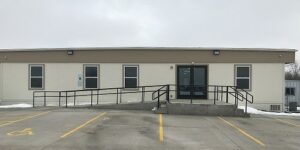 Meet Our Chicago Sales Team!
"For more than 20 years, I've worked in the rental industry providing timely solutions to customers' rental and sales needs. Satellite Shelters shares in my drive to exceed the customers' expectations on every order. I believe the greatest compliment a customer can give is a referral. Our team looks forward to earning your trust and your referrals."
"My NAWIC and ASA Chicago relationships keep me connected to relevant news in our industry and allow me to stay current on trends and growth. I partner with customers, and the friendships that have developed are my true reward. Solid morals, reliability, and trust are what you will experience when working with me and Satellite Shelters."
"I come to you with direct mobile office and storage experience in the modular industry since 2012. My technical background, combined with a focus on the customer, will ensure you timely, quality service. Satellite gives me the platform to continue with the highest standards of honorable and ethical conduct, and I look forward to earning your trust and your business."
"I started working in the modular building industry in 2008. Clients have said I prove my value beyond initial project proposal because of my strong background in building science and building materials. My goal is to exceed customer expectations consistently by following each project from beginning to completion. I champion any issues that come up so they are resolved quickly and completely, and I persistently follow up when necessary."