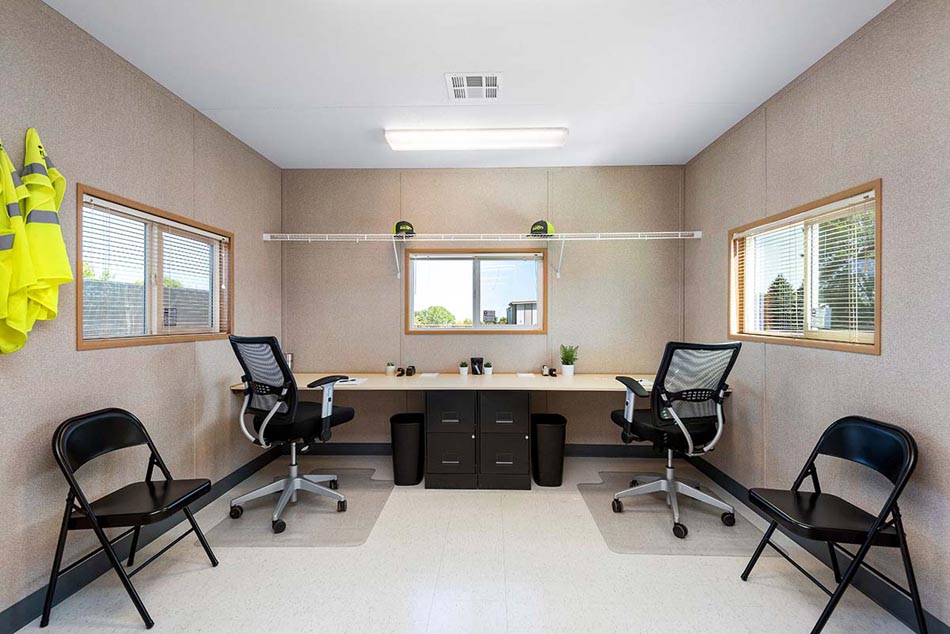 Renting a mobile office trailer or modular building can help your business or organization quickly and cost-effectively create functional workspaces. At Satellite Shelters, we can even help speed up the move-in process with our Ready To Go Packages! We rent furniture, floor mats, safety products, and appliances—the essentials you'll need to help you get right to work in your new space.
Getting Your Office Trailer or Modular Building Ready To Go, Inside and Out
Satellite's Ready To Go Packages allow you to easily rent the furniture and items you need to get your modular building or mobile office trailer workspaces ready to go. Because you can get these packages directly from Satellite, you don't have to worry about shopping around for vendors or waiting for everything to be delivered at different times.
Instead, you can order Ready To Go packages directly from us, pay for them on your primary invoice, and have all your furniture and essentials available right when your building is ready. Just talk with the team at your regional Satellite office as you're coordinating your construction project or mobile trailer transportation, and we'll get the details ironed out.
Our Ready To Go Packages for Your Workspace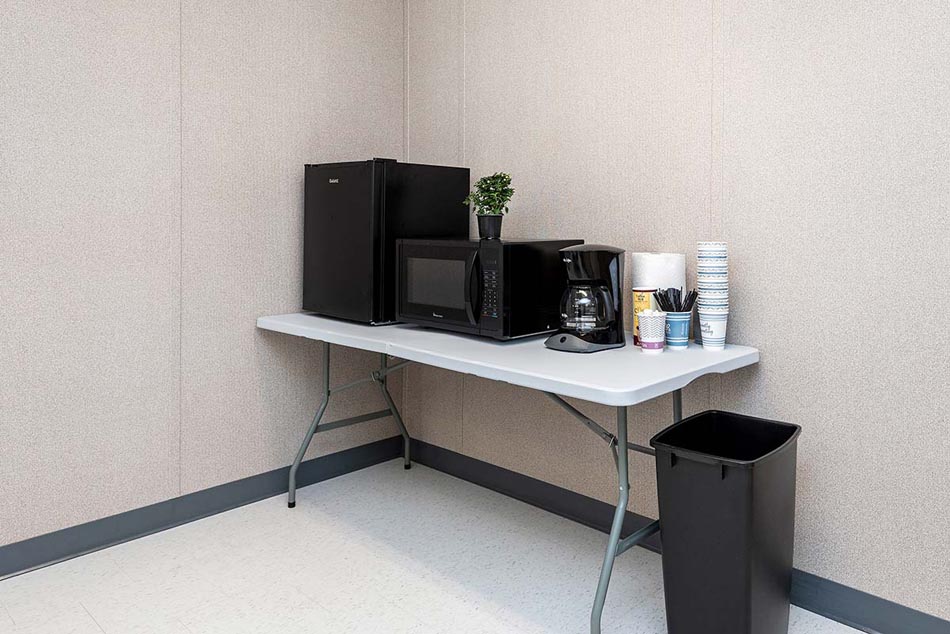 Whatever you're using your office trailer or modular building for, Satellite has a solution for setting it up as a functional workspace. We offer several furniture and basics packages so you can get to work right away. Plus, because these items are available for rent, you won't have to worry about what to do with everything if you get new furniture or are done using your office trailer or semi-permanent modular building.
The Office Starter Kit
Get your mobile offer trailer or office room set up in one easy step with our office starter kit! Perfect for pairing with a built-in desk setup, this starter kit will help you move in and tackle paperwork, online tasks, and more in no time. Plus, with two office chairs and multiple extra chairs, this package can help you furnish shared office spaces, or even multiple rooms, depending on your setup. 
The office starter kit includes the following:
Two rolling chairs

Two floor mats

Two small trash cans

Four stacking/folding chairs
Break Room Setup Package
Regardless of your industry or line of work, a break room is an essential space for your crew. Luckily, Satellite can help you prepare a small break room for use on day one. 
With the help of our break room package, you'll have a space set aside for heating up or storing lunch, sitting down for a quick break, and making a much-needed cup of coffee. Perfect for smaller teams or crews with staggered lunch breaks, this package can help you get a much-needed break space together for your whole team.
Our break room package includes these essentials:
Two 6-foot folding tables

Four stacking/folding chairs

One microwave

One mini Fridge

One coffee Pot / Mini Keurig

One large trash can
Conference Room Setup Package
Get a conference room set up for smaller team meetings, leadership conversations, job interviews, and more with our conference room package. This package will help you get meeting room essentials and has the amenities you need to make this space double as a breakroom or team breakfast or lunch space as needed.
Get the following with our conference room package: 
Three 6-foot folding tables

Eight stacking/folding chairs

One microwave

One mini fridge

One coffee pot/mini Keurig

One large trash can

One easel flip chart
Additional Workspace Furnishing Options
Looking to get more furniture or just need some extra essentials not included in our packages? Don't worry—we can help you get whatever you need to get your building ready to go! 
We often provide the following essentials for new buildings and office trailers: 
Steps and ramps

Boot scrapers

Cubicles

Chair mats

HVAC filters

Hand sanitizing dispensers

Fire extinguishers and smoke detectors

Printers

Full-size fridges

Window and door bars

Security screens

Skirting

Portable restrooms
Looking for something else that we haven't already mentioned? We can handle that too. Just let us know what you're looking for, and we'll be happy to take your special requests.
Get Your Workspace Prepped for Move-In With Our Ready To Go Packages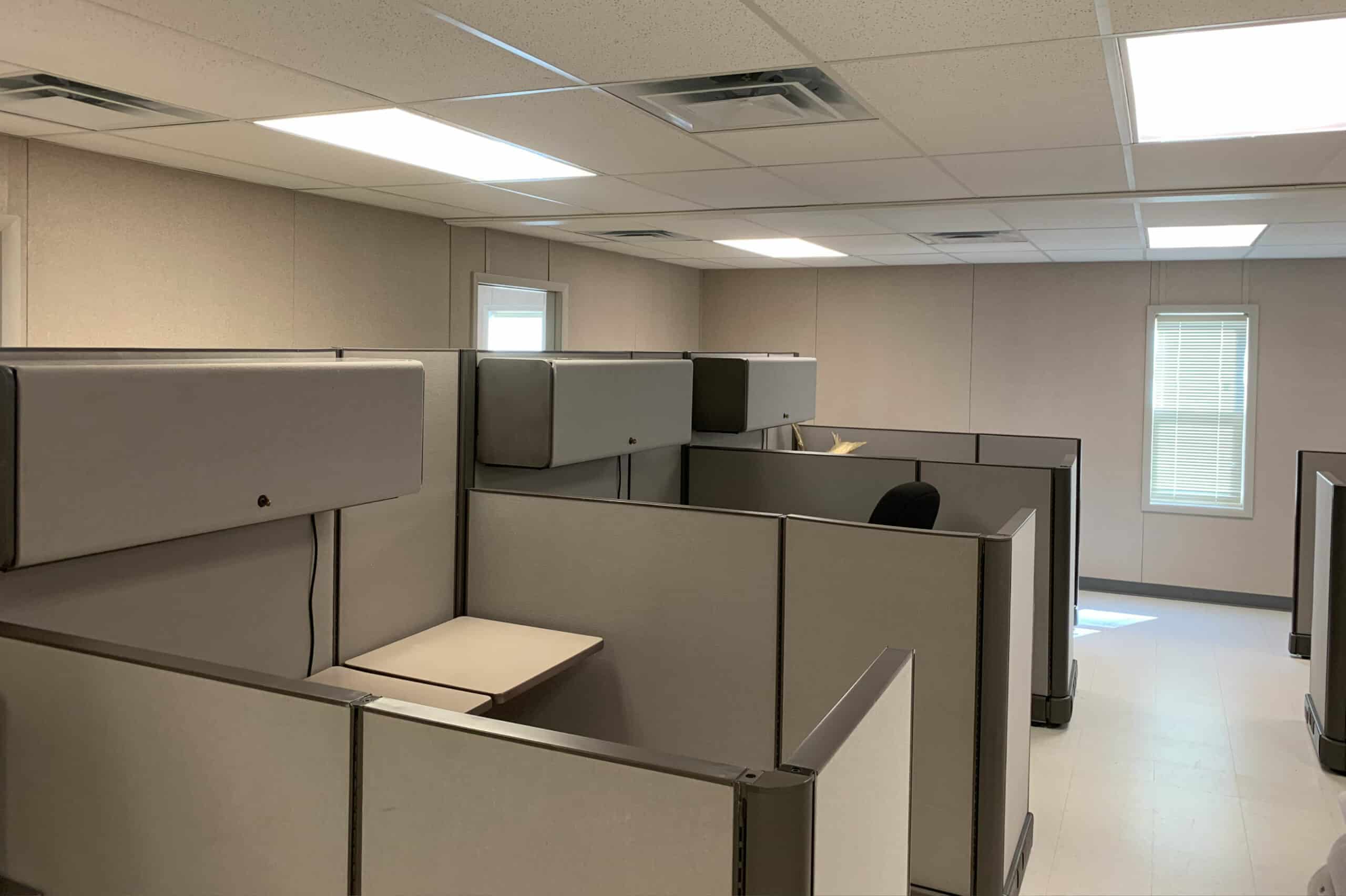 Count on Satellite to get your new building or office trailer ready to go inside and out! With our furniture and essentials packages, you'll be ready to get to work in your space right away, with no need for downtime or dealing with a middleman just to make your new space usable.
To get started with your furniture package rental for your current or new modular construction project, just reach out to us for a quote. Whether you're looking to rent one of our office, break room, or conference room packages or need a custom solution, we'll be happy to help!