Satellite Safety Shelters – Blast Resistant Modules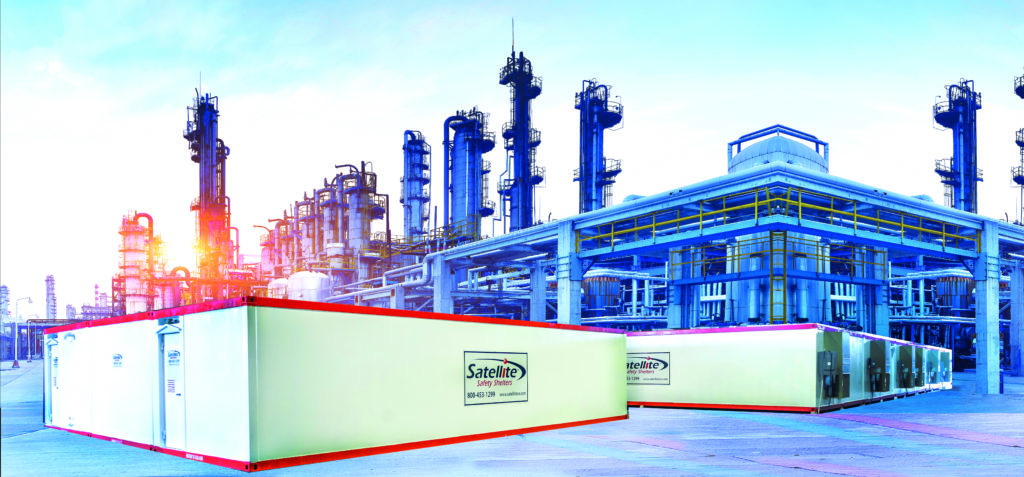 Satellite Shelters, Inc. provides blast resistant modular buildings and other space solutions for zones 1, 2 and 3 to the petrochemical, energy, and refining industries across the United States. Our space solutions include blast resistant modules, mobile offices, ground-level offices, storage containers, and modular buildings.
We can provide standard and custom blast resistant buildings from 1 to 8 PSI that come in a variety of sizes and configurations. Our standard sized safety shelter is 12′ x 40′ with an open floor plan to add flexibility to any office configuration. Plus, our units can be stacked to further maximize space limitations. See more details on stack-ability.
A 4-ton, oversized HVAC system provides comfort in extreme weather conditions

End wall entry / exit doors maximize the limited space inside the blast zones

Electrical ports down both walls increase flexibility in office configuration

Side walls painted white adds brightness and improves working conditions

New equipment
Office & Meeting Rooms
Lunch Rooms & Break Rooms
Rest Rooms
Base Camp
Control Rooms
Changing Facilities
De-frag / Clean-up Facilities
Storage – and more!
For more information about Satellite Safety Shelters Blast Resistant Modules,
take a look at a few of our videos:
To request a Satellite Lunch 'N Learn or General Meeting for your company, just send us this completed form:
At Satellite Shelters, we pride ourselves on providing excellent, comprehensive customer service to ensure you have all the support you need when choosing your blast resistant building or shelter. We have multiple offices conveniently located across the United States in order to serve you better. Find your local branch office.
Our products are backed by a team of petroleum industry experts and are PICS qualified and adhere to API RP 753 guidelines.
We have an award-winning safety program and are an approved vendor with many companies and refineries across the United States, providing blast resistant shelters and buildings to many facilities affiliated with AFPM, ACIT, TCC, and LCIA.
Be prepared for your next turnaround or expansion: Keep your contractors and employees productive and safe on the job site, in a plant, or at a refinery with Satellite Shelters' temporary and permanent modular space solutions for zones 1, 2, and 3.
If you'd like to learn more about our innovative blast proof buildings, give Satellite Shelters a call today. Our expert team is here to help answer any questions you might have.
Contact our National Sales Team:
"I first started working with Satellite Shelters in 2006 and have been in the industry for 20+ years. It is the integrity of the business, the experiences, opportunities, and my customers that keep me motivated each day to be part of the great team at Satellite. This is where I am meant to be."

Michele McMurdo
Director of BRM Development
Phone: (763) 551-7203
Email: MicheleM@satelliteco.com
Download Michele's vCard