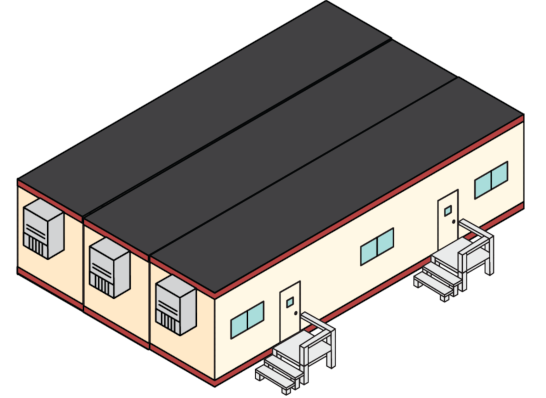 You've decided to go the modular route when choosing a building option—but now what? There are a variety of modular building possibilities to choose from, so how do you know which one is the right choice for you?
First, consider how you will use the modular building. If it's for a long-term project or semi-permanent application, but you still need the flexibility to expand, then an s-plex modular building from Satellite Shelters may be the solution for you.
Satellite's s-plex modular buildings are a versatile modular solution for any application where additional space is needed. Since they are easily assembled and expandable, the layout can be modified by inserting or removing center modules to meet changing needs. They can be as small as a double-wide or as large as your application requires.
Choose from one model or combine several of the three floor plan options to create your own unique design:
A MODEL
End wall option
2 private offices
2 ADA restrooms
Optional coffee bar

B MODEL
2 private offices
Open center for cubicles or meeting space

D MODEL
End wall option
2 private offices
Open center for cubicles or meeting space

Additional S-Plex Building Features
Satellite's s-plex modular buildings aren't just walls, a ceiling, and a floor. They come with the kind of features that allow for their use in all kinds of industries and for a variety of purposes. These features are available for your s-plex building:
Multiple state codes for use from state to state
Wood exterior siding
Vinyl-covered gypsum interior walls
Tile flooring
Acoustical lay-in ceiling tiles
Vertical sliding, double-insulated glass windows
Double walls on shared office walls for better sound control
Empty junction boxes in offices and common areas for communication lines
Electrical HVAC systems
Your S-Plex Modular Building is Waiting for You
When site space is limited, but you want to leave room to grow and expand in the future, expandable s-plex modular buildings from Satellite Shelters can help provide the space solution you need. Since 1972, we've been a national provider of temporary and permanent modular space solutions, and we have the experience you're looking for. We're here to help. Contact your local Satellite Shelters branch today to get started!