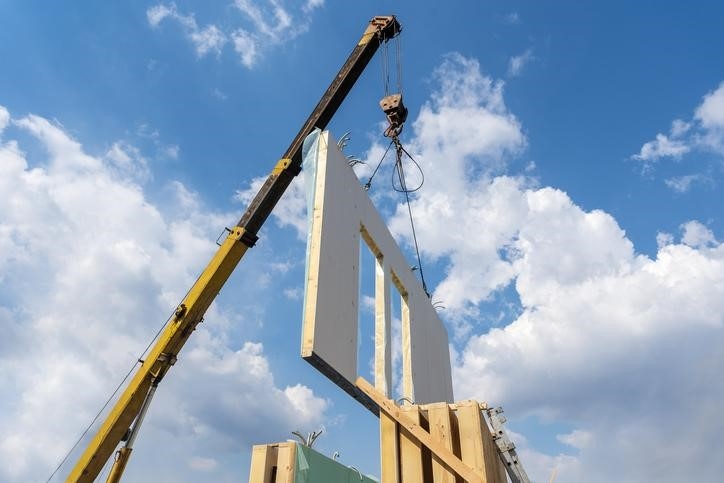 As construction costs continuously rise in many cities throughout the United States, business owners and general contractors are looking for ways to reduce cost and get back to work. Traditional "stick-built" construction is more widely known, but it's not the only construction method available. Modular construction can be a faster and more cost-effective option. Whichever you choose, it's important to know what method of construction aligns with the goals of your business. So, how do you know which option fits your business the best?
Satellite Shelters can help you determine the best course of action for construction. Our branch offices service most major U.S. cities, and our local experts can help you determine what type of construction makes sense for your downtown business.
Traditional Construction
Traditional construction entails a construction crew that lays the foundation, raises walls, builds the roof, completes the building's interior, and—after fixing any issues—finishes the building. Crews must complete each step in succession before moving to the next phase of development. If one phase is held up, it creates a bottleneck, delaying each of the next steps and pushing out your timeline.
While traditional construction is more widely known than modular construction, it can cause issues for communities near the job site. For those cities that pride themselves on being commuter-friendly, traditional construction projects located in downtown areas can shut down streets and sidewalks for extended periods of time. This places additional stress on local businesses and residents.
A man from Printer's Row in Chicago discovered firsthand how difficult commuting becomes during traditional construction. Fences from a construction site took up most of the sidewalk near the end of his block, making navigation in his wheelchair difficult.
Pros of Traditional Construction
Familiarity: Traditional, or stick-built, construction has been around for centuries and is the go-to for many owners. But as modular construction continues to advance and become more prevalent, it's hard to argue against the benefits.
Flexibility: One of the limitations with modular construction is the height of modules when being transported. Because modules are transported via truck, modular construction is limited with how tall the units can be for transport purposes. Traditional construction doesn't have this limitation.
Cons of Traditional Construction
Weather/seasonal conditions: The traditional construction process is more susceptible to the elements during development. Any sort of inclement weather can slow or even halt construction completely.
Time: With its rigid step-by-step process, development and surprise costs can slow or stop construction progress on traditional construction sites. Delays caused by crews waiting around for materials to be delivered or inclement weather to pass are costly.
Cost: Projected costs can easily fluctuate on any construction project. However, with time and weather delays, traditional construction costs can be greatly affected—often-times exceeding original budgets.
Traditional construction certainly has a long history of success, but companies need additional space faster, especially in the age of social distancing. Traditional construction's linear process may not be quick enough to keep up with this change. The space for traditional construction in large cities is also becoming smaller, making both design and logistics difficult. If your business is considering traditional construction, you should weigh the pros and cons compared to modular construction.
Modular Construction
In the modular construction process, structures are built in pre-constructed parts. While the construction crew lays the foundation at the job site, skilled craftspeople construct the building in sections called "modules" in a factory-controlled environment. These modules are then shipped to the job site to be put together as soon as the foundation is set.
Module delivery may require specialized equipment; however, disruptions to normal traffic flow only last up to a few days versus several months with traditional construction. As soon as the modules are delivered, communities can regain street and sidewalk access immediately.
Pros of Modular Construction
Cost-effective: The pre-constructed parts of a modular building allow construction crews to complete multiple steps at once, saving you upwards of 35% on construction time. That means you get back to work 35% quicker with modular construction.
Quality: Factory manufacturing of the modules gives construction crews more control over the quality of the building. In a factory-controlled environment, there are no weather delays or issues with material waste, saving the customer both time and money.
Adaptable: Unlike traditional "stick-built" buildings, modular buildings can be reused, relocated, or expanded with changing needs. If there's no room to expand out in your tight, urban setting, you can expand up—as modular construction supports multi-story applications.
Community-friendly: Modular construction creates less noise, traffic, and community disruptions than traditional construction.
Cons of Modular Construction
Unfamiliarity: Some people are unfamiliar with the modular construction process, making them more hesitant to proceed. Your Satellite Shelters Design/Build Expert can help you through this process and ensure you're making the best decision for your goals.
Transport difficulties: Module deliveries can require specialized equipment, which can make delivery of the modules complicated—but not impossible. Cranes can be used to lift units into place, minimizing the need for large trucks to maneuver in tight spots or smaller job sites.
Financing: Some banks may not be familiar with modular construction, which could make the financing stage harder to navigate. However, your local Satellite expert can help educate your financial professional, smoothing the way for you to get the financing you need.
Contact Satellite to Learn if Modular Construction Is Right for You
Now that you understand the pros and cons of modular vs. traditional construction, you can determine which method makes the most sense for your company. Whether you need a small building to fit a tight space or a large campus to use for years to come, Satellite's Design/Build Teams servicing cities throughout the country can help you choose the best option for you.
Keep expanding the future of your business. Contact Satellite Shelters today!