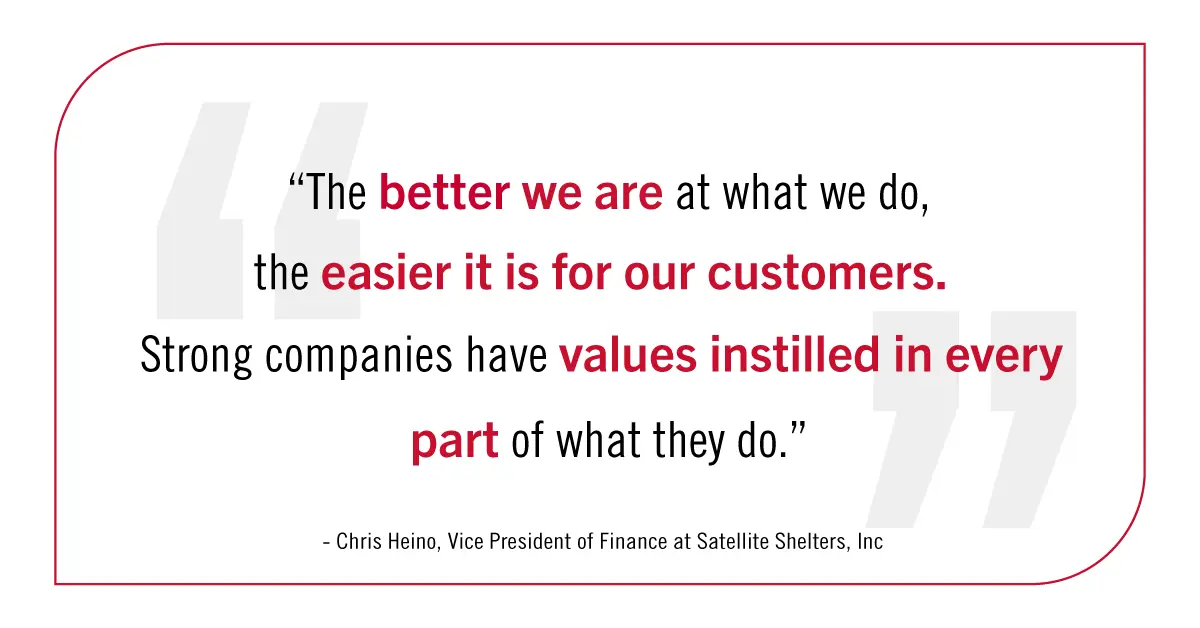 The employees of Satellite Shelters, Inc. live and breathe by seven core values that exemplify the qualities and standards by which we operate: The Best At What We Do, Proud Work Ethic, Puts Others First, Safety First and Always, We Don't Cheat at Solitaire, Wants to Wow, and We Are Winners.
We interviewed each of our top-level executives to find out what these core values mean to them.
"It comes down to building or doing things right and there are compounding good things that come from that." Chris Heino, VP of Finance and Administration for Satellite Shelters, Inc. said on the Core Value: The Best At What We Do.
Chris believes that being The Best At What We Do involves planning and attention to detail. "The better we are at what we do, the easier it is for our customers," he said. The value that Satellite provides raises the bar for all employees and gives them a high level of expectation for themselves, especially when taking care of our customers.
Satellite Shelters wants doing business with us to be extremely simple and it starts with the initial phone call. We strive to go above and beyond expectations through delivery, service, and return. The Best At What We Do is a continual process of improvement. We want to understand how we work best, both for and with our customers, by raising the bar for our standard of service.
Chris ended his thoughts on company culture with the following: "Strong companies have values instilled in the very fabric of what they do and these values help run their business. The culture of a company will lead over strategy every time." If Satellite is The Best At What We Do, then we know our customers are getting the best – and that is what's most important.
Satellite Shelters, Inc. is the premier mobile office and modular building provider in the US. If you're frustrated by the quality of products or service that you're receiving, contact us today and let us show you what we can do.