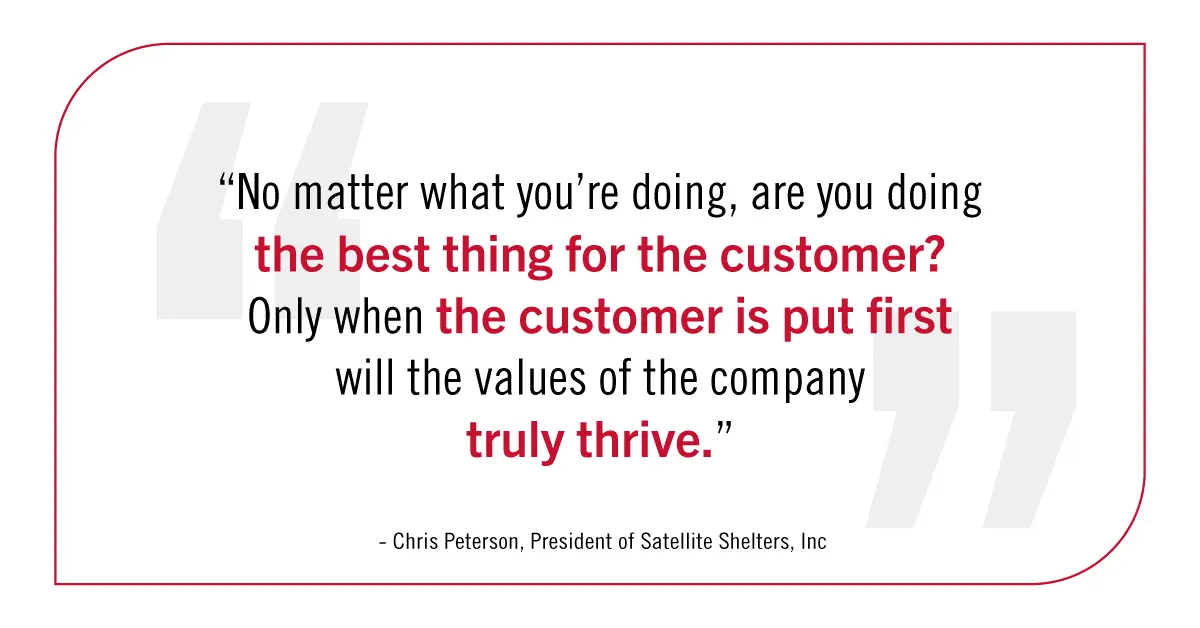 Satellite Shelters' Core Values define who we are as a company. They point us in the right direction, guide us through decision making, help us hire the right personnel to fit our culture, and pilot us when conducting ourselves with customers and fellow employees. They are the foundation of our organization. They are:
It's not only important to hear them spoken by leadership or to read them from the placards that adorn our local offices, but to have a firm grasp on the concepts and live them day in and day out. Over the past few months, we have taken the opportunity to connect with members of our leadership team and get their perspective on our Core Values, what these values mean to them, and how they have helped define our company.
"No matter what you're doing, are you doing the best thing for the customer?" Chris Peterson, President at Satellite Shelters believes in Putting Others First. "Only when the customer is put first and taken care of, will the values of the company truly thrive."
Without our customers, vendors, and partners, there is no Satellite, so the company isn't what is most important, it's the people we do business with. When you do business with us, you're going to talk to a local sales rep that's responsible for your entire experience. From listening to your needs and finding the best space solution for you, to dispatch, service, return, and every step along the way, your Satellite rep is there for you. "We put our customers first by ensuring they're working with local market experts who pair their needs with the best product for them," Chris commented. "It can be rare in this day and age, but when the phone is answered, you're immediately greeted with a friendly, knowledgeable person." Automation, while often helpful for a company, is a burden on the customer and that's not something we ever want to be at Satellite. We believe in people helping people.
Whether a fellow employee, customer or vendor, Satellite consistently challenges our employees to go the extra mile, to do the right thing, and put others first. It's essential that our customers get a quality product so they can take care of the important elements of their job without having to worry about extra maintenance or the safety of their employees. It's also just as vital that we are fair with our vendors.
Chris believes in taking care of other people, including our vendors, and being fair in our transactions, "It's important that we put their needs before our own. Our partners have their own businesses to run and employees to take care of. The value of each partnership we forge is built through honoring our commitments. By continually putting others first, across the entire company, everyone gets taken care of."
Customers deserve to be put first in their interactions with their modular building provider. It doesn't matter if you're purchasing a large modular building or renting a small mobile office, we're here for YOU. If you're looking to start a new project and need a partner in the modular space industry, contact us today.