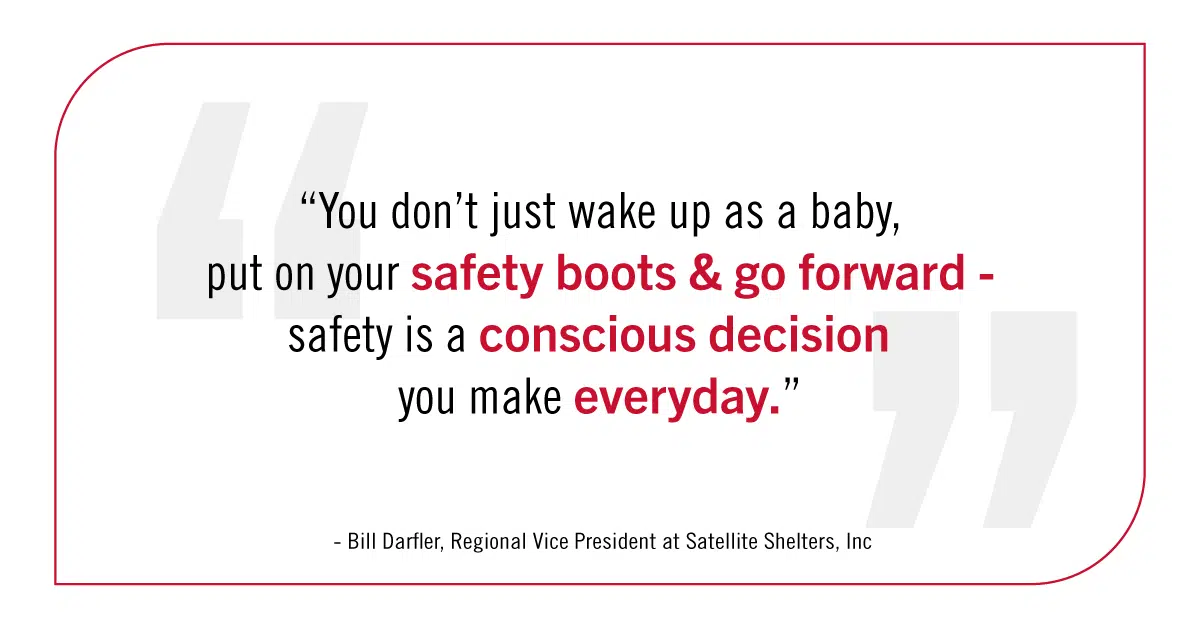 While each Core Value at Satellite Shelters helps define who we are as an organization, safety specifically plays a very important role in our culture. We have asked members of our leadership team to explore their thoughts and feelings on each of our Core Values, so that we may get a deeper understanding of what these values mean to them.
"You don't just wake up as a baby, put on your safety boots and go forward – safety is a conscious decision you make every day." Bill Darfler, Regional VP at Satellite Shelters makes sure the core value Safety First and Always is woven into the fabric of his day.
Being cognizant of your surroundings is an essential part of safety and reporting potential hazards can be lifesaving. "Safety can't just be something we teach, or something we are taught. Safety needs to be something we live every day, and it starts with you," Bill said. "We encourage our employees to be aware of their surroundings, including those of their fellow employees and loved ones, and to speak up when they recognize a potential hazard." Experiences with seeing injuries firsthand has motivated Bill to raise awareness of safety no matter where he is: "Safety belongs everywhere; at work, at home, in the car, on customer sites – everywhere. We're a big company, but we have small company values – we care about everyone."
At Satellite, we want everyone to go home safe and to be safe at home! Part of safety is awareness and diligence. It's important to be on the offensive while going about your day. Be aware of potential safety hazards and vigilant in fixing – or finding the right people to fix – them. We encourage employees and associates alike to speak up about safety, to educate themselves – as well as others – about prevention, awareness and solutions.
Bill teaches that safety is everyone's responsibility, "If you see something unsafe, speak-up. Think about how this might affect other people down the road."
Safety First and Always is a Core Value at Satellite Shelters. We believe in safety, not only for ourselves, but for loved ones, fellow employees, and of course, our valued customers and partners. It is just as important to us that your worksite and employees are safe whether you're renting a mobile office or you've purchased a large S-Plex unit, you will always get a quality product that has undergone a rigorous safety inspection. We can even supply steps, ramps and other specialty products and services to ensure that your buildings are functioning safely. Contact us today to get your next project off to a safe start.