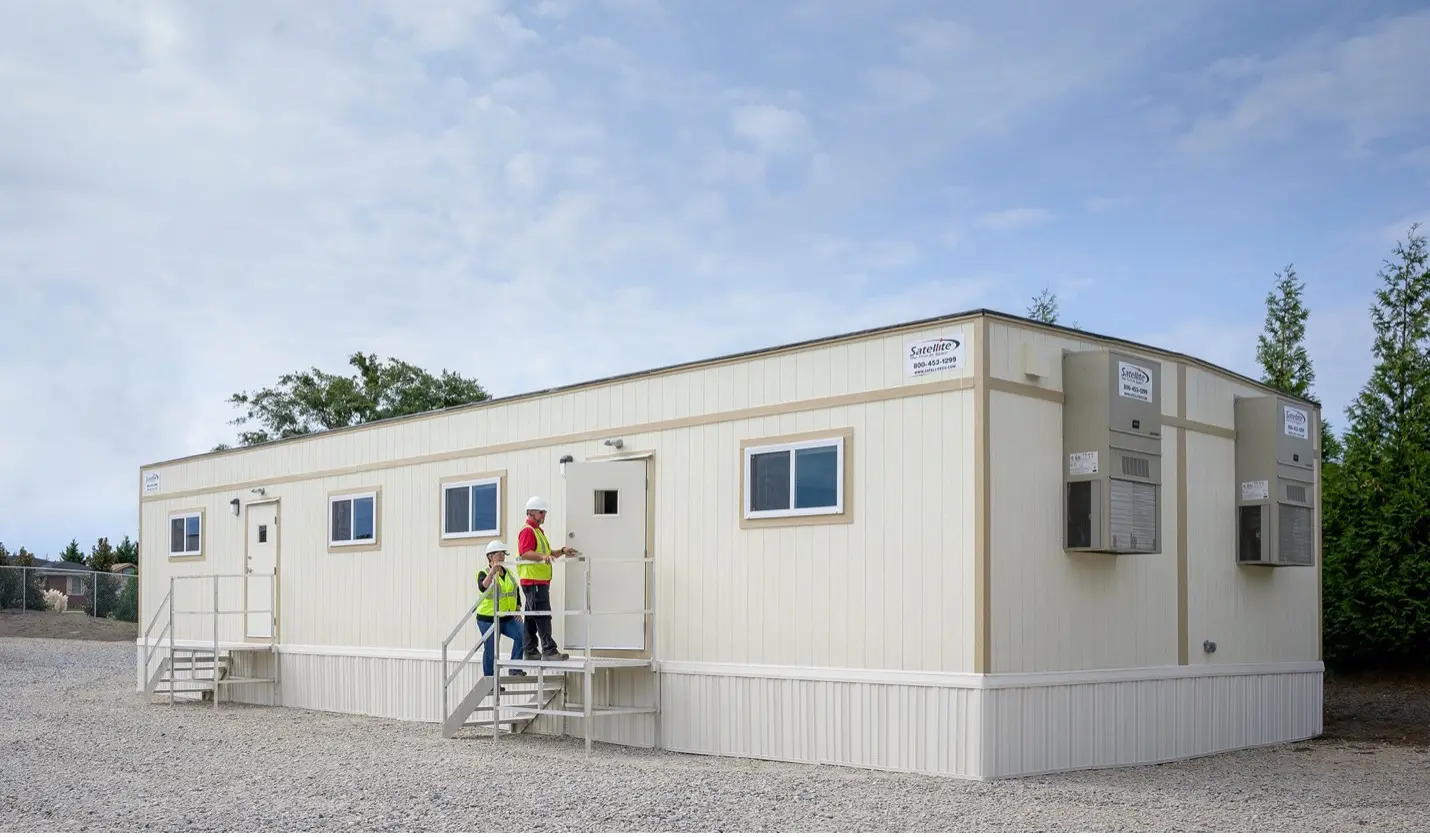 Modular buildings have numerous benefits when compared to traditional construction. They're faster to build, more cost effective to construct, and can be customized to fit your needs. But modular buildings are still structures that require maintenance and upkeep. Here are five tips to best maintain your modular building from the experts at Satellite Shelters.
1. Set Your Thermostat Correctly
Most modular buildings come with an HVAC unit to keep the interior of the building comfortable through all seasons and climates. While modular building HVAC units are sturdy, they are not invincible and can be overworked—particularly on sites where occupants are opening the door frequently to enter or exit the building.
We recommend you set your thermostat to the following temperatures:
Heating set no higher than 72 degrees Fahrenheit
Air conditioning set no lower than 68 degrees Fahrenheit
Although it's a seemingly small maintenance tip, setting your thermostat correctly will help prevent HVAC problems. Keep your thermostat at a steady temperature even when the building is unoccupied. For example, when leaving at night, continue to run the HVAC unit. Keeping the HVAC running prevents it from having to work extra hard to either heat or cool the unit once it is occupied again.
2. Replace Air Filters
Setting your thermostat correctly is only one way to ensure that your HVAC system continues to function properly. It's vital that you replace HVAC air filters as recommended. Satellite Shelters recommends replacing the air filter every 30 days, though you might need to replace it more often if you work in a particularly dusty or dirty environment. Not sure how to change your HVAC filters? Watch our video, How to Change the HVAC Filter on Satellite Shelters Mobile Offices.
3. Heat Tape Your Water Lines
In extreme winter weather conditions, modular buildings—like all buildings—require some extra attention to ensure they can withstand freezing temperatures and snow. Two of the most common issues we see during winter are freezing water and sewer lines. To keep your lines from freezing, be sure to utilize heat tape. Heat tape helps insulate the lines and can be installed by your plumber when they hook up your water and sewer lines.
4. Clean Your Building
Modular buildings are often installed in areas where dirt, mud, and dust are tracked in from the outside. Though it often gets overlooked when it comes to modular building maintenance, one simple step is to simply clean your building.
Cleaning your modular building offers more benefits than simple cosmetics. Keeping the floors clear of mud can help to prevent slips and falls and damage caused by scratching or denting the floor tiles. The accumulation of dust, pollen, and other airborne particles on the interior surfaces make your workspace less healthy. Take a few minutes each week to mop, sweep, and dust to keep your modular building looking great and your employees feeling good.
5. Keep an Eye on the Roof
The roof of your modular building is important, and it's essential that the structural integrity stays intact to keep occupants safe. Whether you have a flat roof or a sloped roof, you'll want to keep an eye on it to ensure that it's free of any damage. After storms, hail, or high winds, check your roof to ensure there are no holes, tears, or sections coming up. If you happen to find damage during one of these checks, contact your local branch to determine the best course of action for getting your roof fixed.
Modular Buildings for Your Modular Needs
It's crucial to keep your modular building in good working order by performing routine maintenance. Satellite Shelters is here to help with everything you might need. From offering maintenance tips and providing local service calls to supplying your organization with the highest quality modular buildings on the market, you can count on us. Contact your nearest Satellite Shelters office today to talk to one of our friendly modular building professionals.