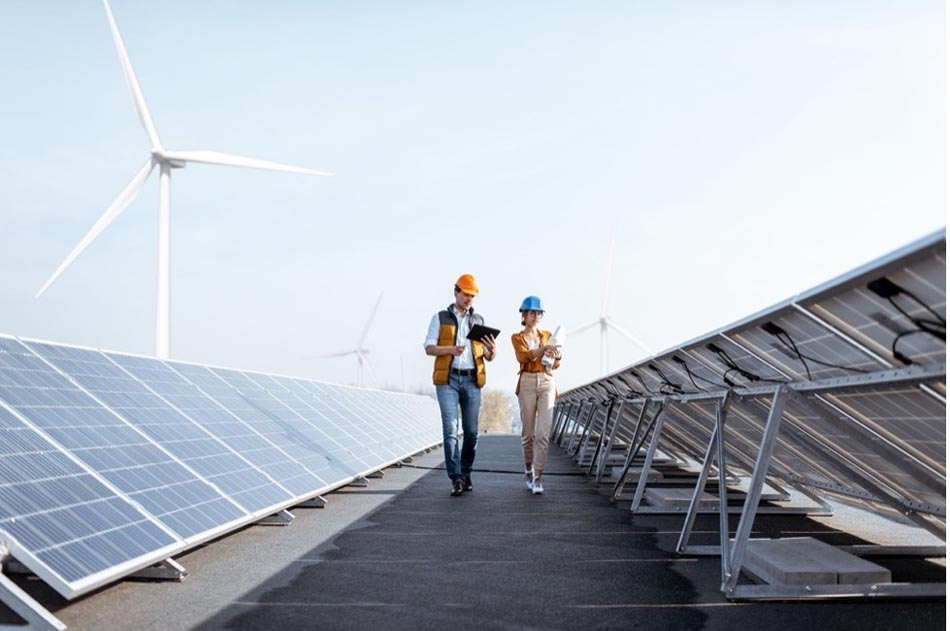 Nations around the world are generating an increasingly higher proportion of renewable energy. In fact, some in-depth studies predict that within the next 30 years, it would be possible for the world to fully transition to renewable energy sources. Namely, solar- and wind-powered energy would lead a large part of this shift and even create millions of jobs.
At Satellite Shelters, our modular buildings assist businesses finding themselves in need of extra space. While this work remains vital to life as we know it, Satellite is also proud to support the evolution toward increasing sustainable sources of energy. Discover how renewable energy industry workers can take advantage of modular construction.
Benefits of Mobile Offices for Renewable Energy Worksites
From wind farms where turbines are constructed to temporary job sites where solar panels are installed, mobile office trailers are a go-to space solution for housing workers or equipment. Not only do mobile offices offer temporary space solutions while the project is underway, but they also offer a permanent space solution in what are often remote locations.
With portable building solutions, the logistics of your worksite won't deter the advancements of renewable energy. Satellite Shelters is here to help lay the groundwork for sustainable energy projects around the country, backed by our reliable modular products and services.
Fast Setup and Relocatable
As opposed to dealing with disruptive, inefficient construction by traditional methods on site, modular construction can shorten your project timeline. This is because mobile office space can be quickly delivered, installed, and relocated—meaning you won't have to find another building for your next job site. Our prefabricated buildings are constructed offsite while site work progresses or while wind or solar power plants are being installed. Traditional construction can disrupt your site, and maneuvering large equipment can be cumbersome. Modular space solutions offer the simplicity and flexibility required on site.
Various Customizable Buildings and Sizes
In addition, mobile offices are offered in multiple sizes and configurations for your team's needs. For instance, it's often useful for general contractors to order several multi-wide office trailers, while subcontractors may only need single-wides. Plus, Satellite provides personalized and custom modular building design and construction to meet your exact requirements for a more permanent space at your location.
Convenient Modular Products and Features
As most wind and solar energy sites are located in rural and low-traffic areas, modern amenities are often not close by. For added convenience in your modular office trailers, consider specialty products from Satellite Shelters, such as steps, ramps, hand-washing stations, and restroom options. Portable storage containers are also useful for an extra layer of security and protection over your equipment.
Flexible Uses for Workers and Contractors
Modular structures can serve a variety of functions on renewable energy job sites, with some of the most common uses being:
Office space
Conference rooms
Lunchrooms and break rooms
Storage
However, you'll likely want to fill your mobile office with more than just employees. Add some office furniture to better accommodate comfort and usability, such as:
Chairs
Tables and desks
Appliances like refrigerators, microwaves, and coffee makers
Saves Travel Time to Job Sites
It's not uncommon for renewable energy sites to be in remote locations. Having mobile office trailers on site can significantly reduce travel time, allowing employees to work, take breaks, and hold meetings directly on (or close to) the project site.
Find a Modular Office for Your Renewable Energy Project
Need a time-saving and cost-effective solution for your renewable energy site? No matter if you're working at a solar, wind, or biodiesel plant, Satellite Shelters can provide the professional, high-quality modular construction services you're seeking. We offer new and used portable office buildings for rent, lease, and purchase. Contact us today to request a free quote, or find your nearest Satellite office to connect with a local representative!