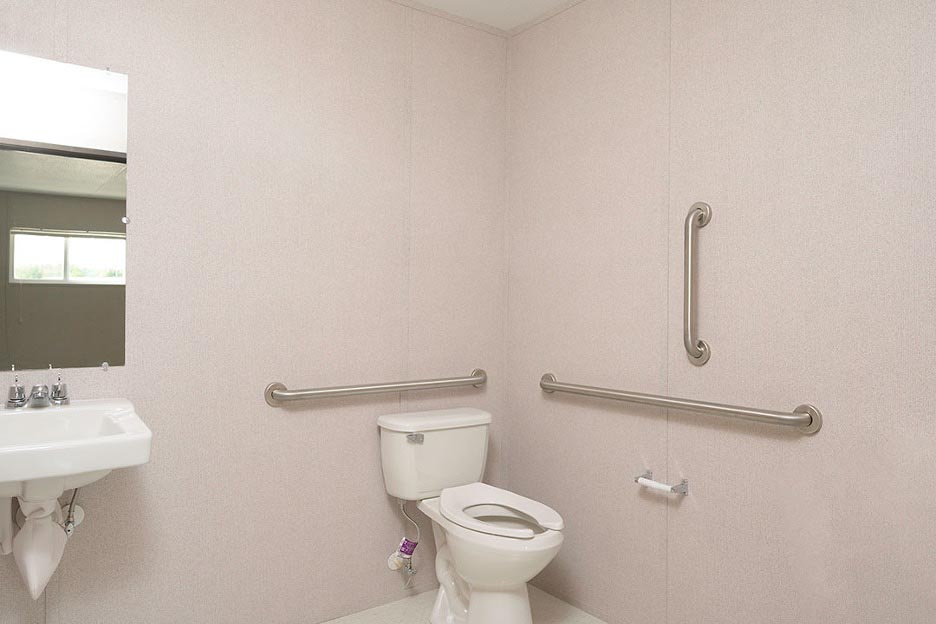 With so many options to choose from when selecting a mobile office for your jobsite, it's easy to get overwhelmed. What size do I need? Will I want private offices? How many desks will my employees need? What are my options for restrooms?
Deciding which restroom you need for your jobsite is a significant factor when thinking about your mobile office. What you select can affect the cost of your building and the functionality of your space.
Types of Restrooms for Your Mobile Office
At Satellite Shelters, we offer four kinds of restroom options to accommodate your needs. To find the ideal restroom for your office, it's first important to know what size building is adequate for your team. Our size guide will help you figure out which features are offered in our mobile office units, how many people they can accommodate, and what customizations are available.
Portable Restrooms on your Jobsite
If you'll be using your mobile office for a short period of time and have the external space on your jobsite, a portable restroom may do the trick. These restrooms can be set up quickly but do require routine maintenance and service by a sanitation company. If you need to accommodate more personnel, additional portable restrooms can be added easily. As your one-stop shop for all your job site needs, your Satellite Shelters expert can add portable restrooms to your mobile office rental contract.
1/2 Restrooms in Your Mobile Office
Half restrooms feature a toilet and sink, similar to a half-bathroom you'd find in a standard home. These restrooms are located inside the unit and require hookups that should be installed by a licensed plumber. Having a 1/2 restroom in your mobile office allows you all the comforts of a traditional restroom and the added bonus of not having to leave your building.
These restrooms are available for the following mobile office floorplans and layouts*:
ADA Restrooms
An ADA-compliant restroom may be required by law or your company policies. ADA restrooms are available in units that are 10' x 50' and larger.
In order for a restroom to be ADA-compliant, it must satisfy several requirements in regard to:
Turnaround radius
Accessible grab bars
Toilet height and dimensions
Door clearance for wheelchairs
Sink height and dimensions
Dispenser height and location
Custom Restrooms for Modular Buildings
If you plan to utilize your office as a more permanent space, a modular building with a restroom may be your best option. Modular buildings can come in the form of our quick setup S-Plex modular buildings or a custom modular building designed just for you. Keep in mind that if you opt to purchase a custom modular building, the placement and number of restrooms can be tailored based on use—no matter if you need stalls, single bathrooms, or ADA restrooms. Whatever your requirements may be, we can help you create the space to accommodate your office needs, bathroom included.
Satellite Has the Restroom for Your Mobile Office Needs
Choosing the right restroom for your mobile office isn't just about cost and functionality; it's also about the comfort of your team. Discuss your office staff's needs with our experts to help you determine which restroom will be the best fit for your team and your budget. If you're ready to start your next project with Satellite Shelters, contact an office near you today!
*Building exteriors and interiors may differ based on region. For more information, contact your local Satellite office.