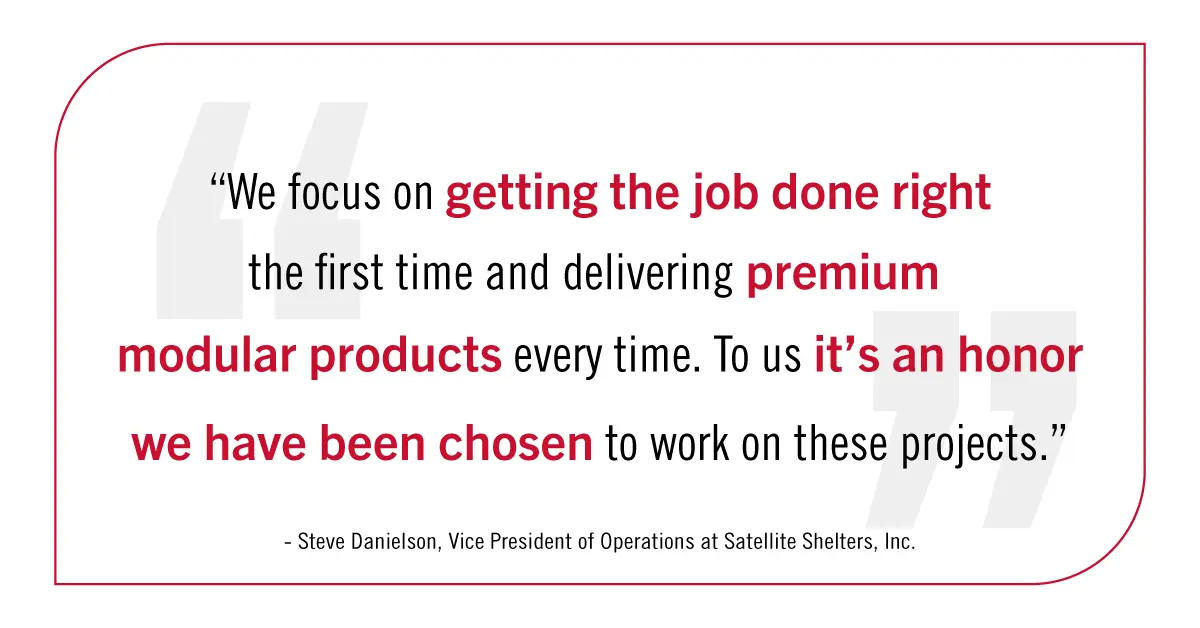 The employees of Satellite Shelters are guided by seven core values known across our company. Each core value defines the standards by which we operate and has a different impact on our day-to-day operations. We sat down with our leadership team to further understand what our Core Values mean to them and how they use them in their daily interactions.
"Our employees are passionate, dedicated, and focused on getting the job done," Steve Danielson, Satellite Shelters VP of Operations, reflects on his favorite Core Value: Proud Work Ethic. "We want our customers to know they are important to us."
Customer satisfaction is an absolute priority at Satellite. "We focus on getting the job done right the first time and delivering premium modular products every time," Steve said. "To us, it's an honor that we've been chosen to work on these projects, and we want to always put our best foot forward."
Satellite's journey in proud work ethic drives our customer satisfaction. We work hard so our customers' lives might be a little easier. From delivering on time, to maintenance and repairs, we want what we do to be in the best interest of our customer. Each interaction is an opportunity for us to shine and wow these partners.
Steve left us with this bit of wisdom: "Customers appreciate Satellite's continued dedication to quality work and quality products. That is the cornerstone to building strong, lasting relationships."
At Satellite Shelters, we take pride in our work and we want to make sure our customers are getting the premium quality service and products that they deserve. Our mobile offices and modular buildings undergo rigorous inspection prior to being sent to your site, to ensure your unit will function at an optimal level for you. If you're looking to work with a provider who puts their customers first, contact us today to get started on your next project.