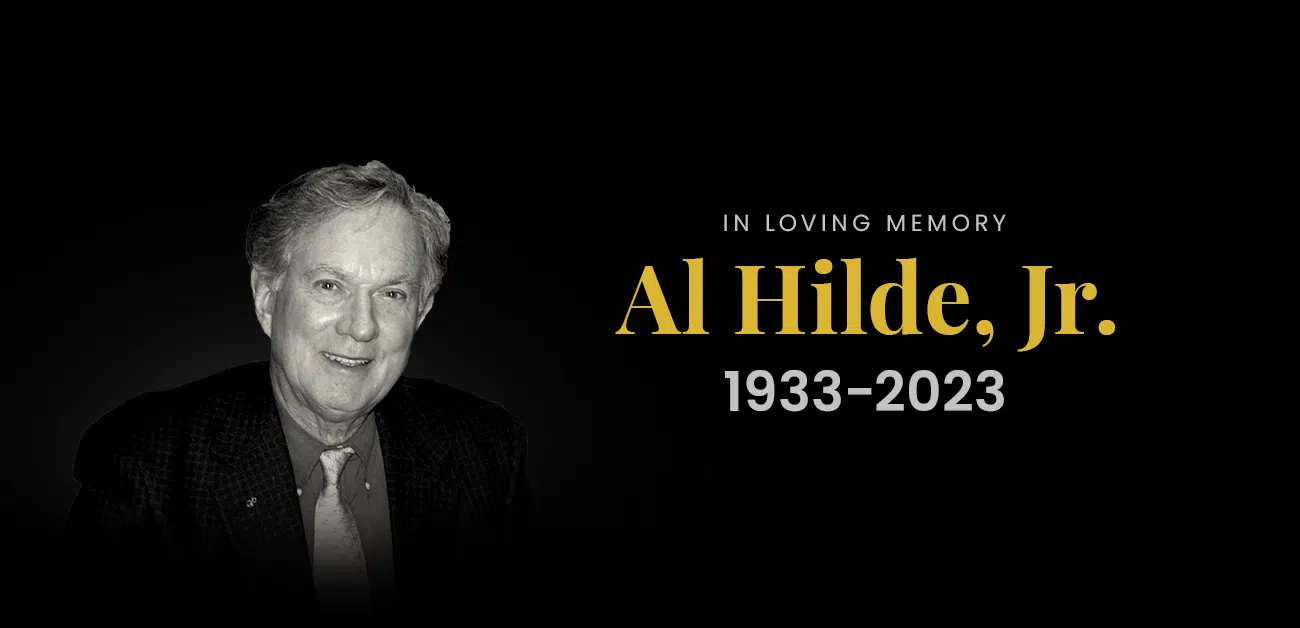 In loving memory of our founder Al Hilde, Jr., we honor a great man and the legacy he left behind. After an amazing 90-year journey, Al Hilde, Jr. passed away peacefully in his beloved mountain home in Jackson Hole, Wyoming on July 28, 2023, surrounded by his family and cherished loved ones. As we reflect on his visionary leadership and profound impact on our company and beyond, we are moved by the journey he embarked on 65 years ago and the countless lives he has affected since.
Al's passion for improving global health and continuous innovation is an inspiration to us to this day. In 1958, Al Hilde, Jr. founded Satellite Industries from a simple notion of providing human dignity. He believed that portable toilet services would be an essential service for many to provide dignity, convenience, privacy and moreover to protect public health and the environment. To that end, Al Hilde, Jr. built the first wooden prototype toilet, followed by a service truck equipped with a vacuum pump and waste tank, and a deodorizer formula to capture odor and breakdown waste with a pleasing fragrance. Under his guidance, Satellite Industries flourished, becoming a global leader in the industry.
In 1972, Al Hilde, Jr. established another company, Satellite Shelters, a national provider of mobile offices and modular buildings, with a fundamental belief in the inherent dignity of all individuals. Operating under the same core values as the other Satellite Family companies, Satellite Shelters has become one of the largest privately held companies in the mobile office space market, renowned for its innovation and service. Proudly upholding Al Hilde, Jr.'s vision and ethics as we serve our customers and the community with respect and excellence.
Another family company, Western Aircraft was born out of Al's love of flying. Purchased in 1995, Western Aircraft responded to the overwhelming need for aircraft repair services and grew to become the world's largest PC-12 dealer and an Authorized Falcon Service Center. With the same dedication, passion, and leadership, Western Aircraft, among other companies, were built into successful businesses with family culture and unwavering values at the center.
Beyond the business, Al Hilde, Jr. will also be remembered for his significant contributions in the community.  Most notably, establishing YAAC (Youth Action Advisory Committee) in government, the "Pride Force" committee to deal and cope with various forms of pollution, and the Plymouth Housing Committee to seek solutions in low and moderate housing. He also held numerous leadership positions such as Mayor of the City of Plymouth for five terms, Founder of The Music in Plymouth, Director of the Minnesota Orchestra, President of the Minnesota Executives Organization and Member of the World Business Council. Recognized for his dedication and achievements, Al Hilde, Jr. was awarded the Governor's Award for Outstanding Achievement in Community and Economic Development in 1970, Portable Sanitation Association International (PSAI) Devoted Service to the Industry Award and founding member of the PSAI to name a few.
Al Hilde, Jr.'s greatest accomplishment, however, cannot be measured by dollars or awards. A family man, married just shy of 70 years to his loving wife Jayne, not only built thriving businesses but also raised three sons (Tim, Todd, and Bret) who grew to love Satellite and nurtured a family culture within the business. Today, the Satellite family continues to grow stronger and is guided by the principles in our circle of culture.
"My Dad's greatest gift to me was teaching me to love Satellite. Satellite was always at the center of our family during our upbringing.  We talked about Satellite over dinner each night and it was always a big focus of our family. As kids, my dad even had us put our hand over our heart when we would see a portable restroom in the field (No joke!…. This was back in the 60's so seeing a Satellite restroom in the field was not as common as it is today). I believe the love for our business and all those in the Satellite family is in our DNA and one of the reasons Satellite is such a wonderful community." – Todd Hilde, July 31, 2023.
Today, we celebrate Al Hilde, Jr.'s life and accomplishments, paying tribute to a leader who ignited an industry and positively impacted thousands of lives with his vision. Al's love for his family, for Satellite and our industry serves as a reminder of the importance of community, strength of family, and commitment to serve.
As we remember him, let us cherish the memories of the countless lives he touched, the contributions he made in our world, and the indelible mark he left on our hearts.
The celebration of his life, will be held Tuesday, August 15, 2023 and 4:00 p.m. at Wayzata Community Church, 125 East Wayzata Boulevard, Wayzata, followed by a reception at the Wayzata Country Club where his friends will be able to greet the family and share stories and memories.
Here are the 4 main hotels near Satellite*:
* In order of recommendation
Crowne Plaza Minneapolis West (IGH)
3131 Campus Drive
Plymouth, MN 55441
(763) 559-6600
Roughly $130/night for Aug 14th (Breakfast included)
Discount rate = "Satellite"
Home2Suites (Hilton)
2990 Harbor Lane N
Plymouth, MN 55447
(763) 235-5150
Roughly $161/night for Aug 14th (Lobby hot breakfast)
Discount rate = "Satellite"
Residence Inn (Marriott)
2750 Annapolis Circle N
Plymouth, MN 55441
(763) 577-1600
Roughly $250/night for Aug 14 (No breakfast)
Comfort Inn Plymouth (Choice Hotels)
3000 Harbor Lane
Plymouth, MN 55447
(763) 559-1222
Roughly $96 / night for Aug 14th (Grab-n-go breakfast)