No matter what industry you work in, there are times when you need additional space for a sales office, training room, or conference room. While a traditionally constructed building might work just fine, there are many situations when an alternative solution is necessary. When you need quick, cost efficient, high quality temporary space, a mobile office trailer could just be for you.
As the premier provider of modular buildings and job office trailers, Satellite Shelters has helped many businesses create more space on their jobsites. If you're not sure if modular buildings are quite as easy as they seem, don't fret—a job trailer can be installed in five easy steps. Here's how.
How to Install a Job Trailer in 5 Steps
1. Choose the Right Size
How much space do you need? No matter if you're choosing traditional construction or a modular solution, there's no way around answering this one. How much space you'll need will depend on what you're using your building for, certainly—but even then, there are some questions that you should ask yourself. These questions will help you pick out the right size building.
How much foot traffic will it get? — If people will be entering and leaving your job trailer all the time, a small space will end up feeling even smaller.
How often will it be occupied?— Depending on your industry, the answer to this can vary widely. Regardless, if your jobsite is going to headquarter foremen or other managers for most of the day, that's a different situation than an occasional break room.
How close is it to your operation? — It's smart to spring for a larger building if your job trailer is far away from your other worksite amenities. From time to time, you may need to accommodate an influx of workers, project owners and site contractors.
At Satellite Shelters, we're proud to provide a variety of mobile office sizes for all manner of needs. Our sizes start at 8' x 24' and can range up to 24' x 60' (and beyond with our S-Plex modular buildings).
2. Work with a Local Expert
Satellite Shelters provides modular building and mobile offices to all 48 continental states. No matter where you need your job trailer, you'll get access to a local modular building expert from one of our 20 Satellite Shelters offices located across the country.
Once you've determined what size of a jobsite trailer you need, contact your local Satellite Shelters office to speak to our local experts. Our staff are experienced and know the ins and outs of your area and can help with specific needs and requirements that you may have.
3. Figure Out Timeline and Building Use
The third step in your mobile office journey is determining your timeline and building use. This is important because there are two main options that you can select for your project: mobile offices and S-Plex modular buildings, and each has their own set of unique benefits.
Mobile offices are your classic temporary jobsite trailer option. These offices can be quickly transported to and erected on your job site—often in a matter of weeks. Even though they are an ideal temporary option, that doesn't mean you'll be without the amenities you need. Mobile offices are equipped with electric HVAC units and fluorescent lighting, and can be optionally equipped with restrooms, private offices, desks, and more. They come in a wide range of sizes, too.
S-Plex modular buildings are versatile, expandable modular options that are a great medium ground between more temporary mobile offices and the permanence of traditional construction. S-Plex buildings come in three model types and can be mixed and matched to create the perfect space for you and your organization. They boast features like optional restrooms, empty junction boxes for communication lines, electrical HVAC systems, and double-insulated windows.
In other words, if you want a semi-permanent modular solution, choose an S-Plex modular building. For temporary solutions, mobile offices are ideal. Either way, both can be equipped with the features and amenities you need for your jobsite.
4. Site Preparation
After selecting your desired building size, figured out your timeline, and talked to a Satellite Shelters professional, the next step is to prepare your site for installation. Our friendly staff can help you with specifics, but our site prep checklist is also a helpful resource. Here are some items you'll need to keep in mind:
Clean your jobsite

Clear snow & ice
Level holes, bumps, and uneven patches
Trim low-hanging tree branches, if applicable
Remove rocks, sticks, and other debris

Prep ground conditions

Make sure to remove mud and keep the ground dry
Stabilize the site, if the ground is unstable
Level the site prior to delivery

Prep utilities

Mark underground utilities
Prepare electric/plumbing hookups

Ensure truck accessibility (including entry and turning)
Once the site itself is prepped, be sure to inform your staff of their role in the installation. This includes assigning and confirming a site contact for delivery day so that everything goes smoothly. Satellite Shelters will deliver and install your unit for you when the day comes, so your only job will be to prepare a space for your building!
5. Get Specialty Products and Enjoy Your New Space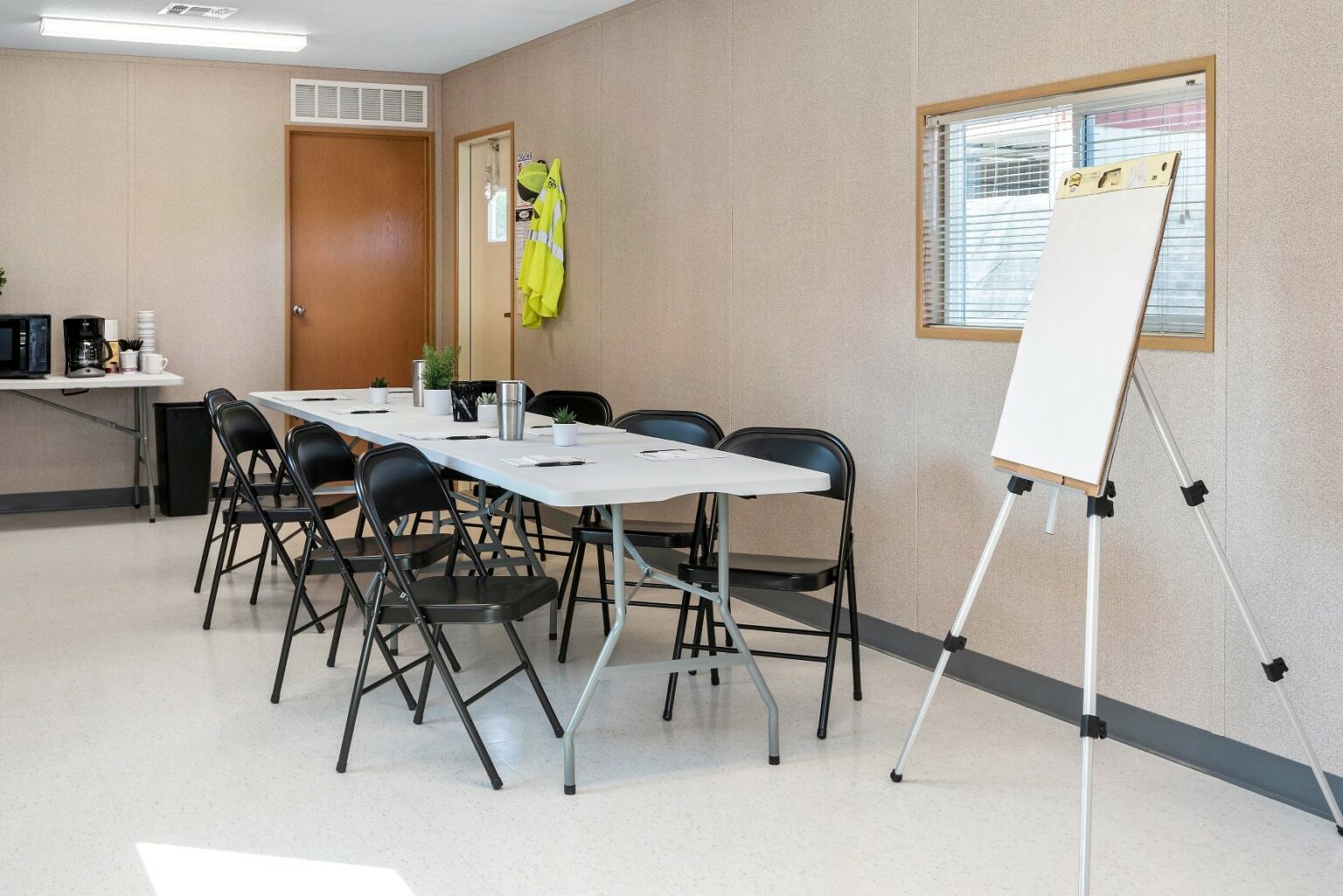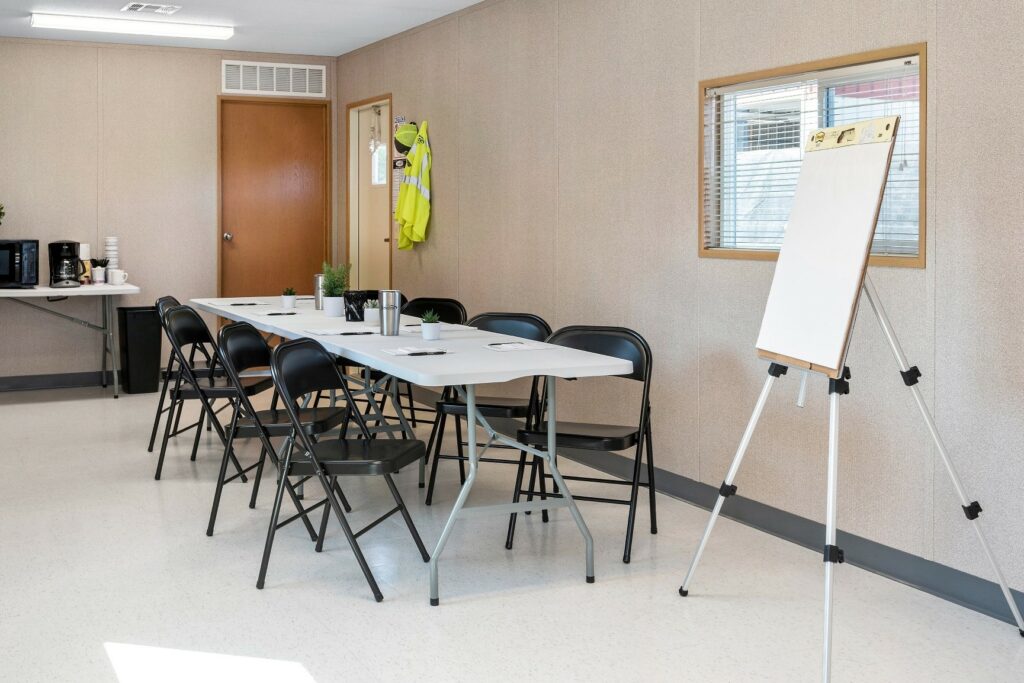 Satellite Shelters is your go-to provider for modular building needs, including furniture, accessories, and anything else your team needs to make sure your space is ready to use when it arrives on your jobsite. Along with our mobile office options, we offer a wide range of specialty products to complete your jobsite trailer. Our options include:
Steps and ramps
Skirting and tie-downs
Portable restrooms
And more
After we set up your Satellite Specialty Products, there's only one thing you have left to do: enjoy your new space!
Work with Satellite Shelters for Your Job Trailer Needs
Here at Satellite Shelters, we're proud to help jobsites around the country with their mobile offices and job trailer needs. We provide job trailers for rent and purchase so that you can do what you do best in your industry. Satellite Shelters makes it easy to pick out a modular building that's right for you.
Request a Quote — do so online or by giving us a call.
Choose a Building — from mobile offices to S-Plex modular buildings, we've got your back.
Enjoy Your Space — get in and get right to work with a quality building and everything you need to make it work for you; it's that simple.
Your job office trailer installation can happen quicker than you think. Just contact your local Satellite Shelters office to get started!