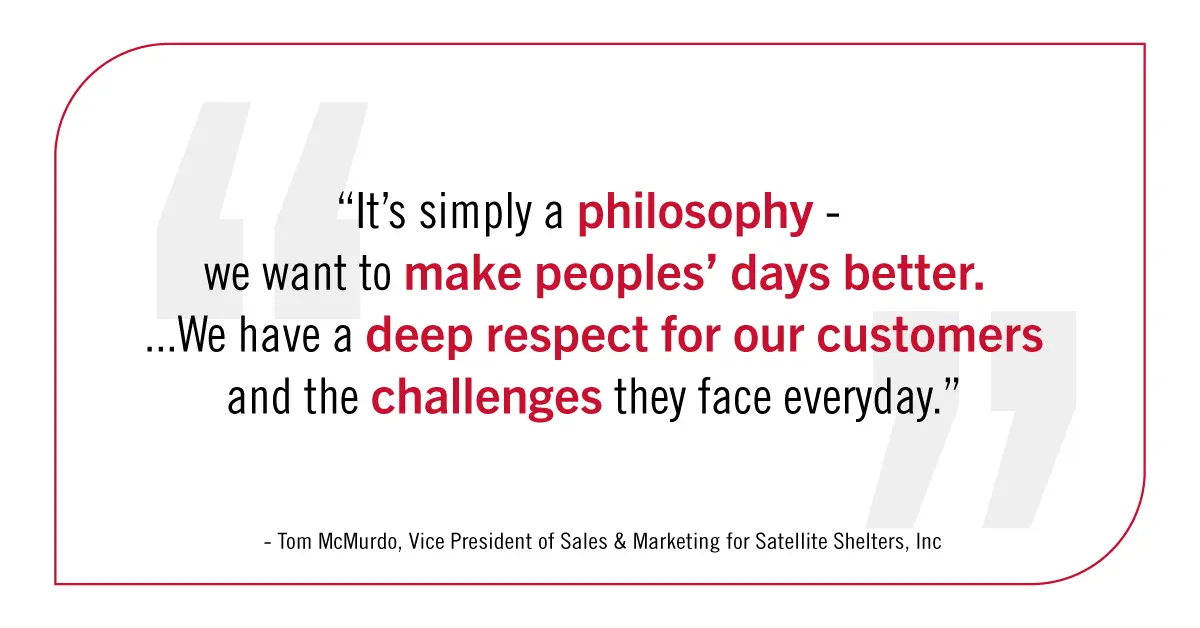 Satellite Shelter's guiding principles are laid out in 7, easy to understand values. These Core Values describe the way we conduct ourselves both within and outside of the company. We have taken the time to sit down with members of our leadership team to further understand the impact that these values have and how they have helped to shape Satellite.
"It's simply a philosophy – we want to make peoples' days better," Tom McMurdo, VP of Sales and Marketing at Satellite Shelters lives the core value "Wants to Wow" day in and day out.
Tom empowers new Satellite employees in his 'Wow Training' where he describes how we are here to take care of the customer first. "If we make a mistake – just fix it," he explains. "Everyone knows what poor customer service feels like. Too often, we talk to customer service representatives who don't have the authority to take care of our problems, but that's not the case at Satellite. We encourage employees to fix any problems, right then and there." At Satellite Shelters, the customer comes first and we give our employees the power and the right to solve issues without hoops to jump through or red tape to cross.
The Satellite Shelters Core Values embody the culture here. It shapes how we do business with our customers, interact with our vendors, and conduct ourselves on a daily basis. We truly want to make everyone's day better. Tom believes in taking care of the customer through every part of the journey: "It's an incredible challenge to build something out of nothing. Whether we're supplying a modular building or delivering a mobile office, we have a deep respect for our customers and the challenges they face every day – and we don't EVER want Satellite to be one of those challenges."
Satellite Shelters "Wants to Wow" each customer through every interaction. Whether you've had a conversation with one of our knowledgeable, local sales reps or just had a brand new mobile office trailer delivered, we want you to walk away from the interaction with a sense of calm, knowing you've been taken care of. If you have an upcoming project, contact us today to see how we can wow you!