Modular buildings are known for how quickly they can be built, shipped, and constructed on your worksite. Traditional construction simply can't match the convenience and cost-effectiveness of modular construction. Despite the benefits, though, some still believe modular buildings lack the customization required for certain projects.
However, this couldn't be further from the truth. Satellite Shelters designs and builds custom modular buildings for many customers across the country. These buildings are tailored to the unique needs of our customers. Here's an inside look into our modular building design process:
Project Analysis
The first step in designing your modular building is always project analysis. At Satellite Shelters, we recognize that every project is different and has a unique set of needs and budget considerations. In the project analysis phase, our representatives work with you to discover the scope of the project and plan for the work ahead. This phase helps pave a smooth road for the rest of your project.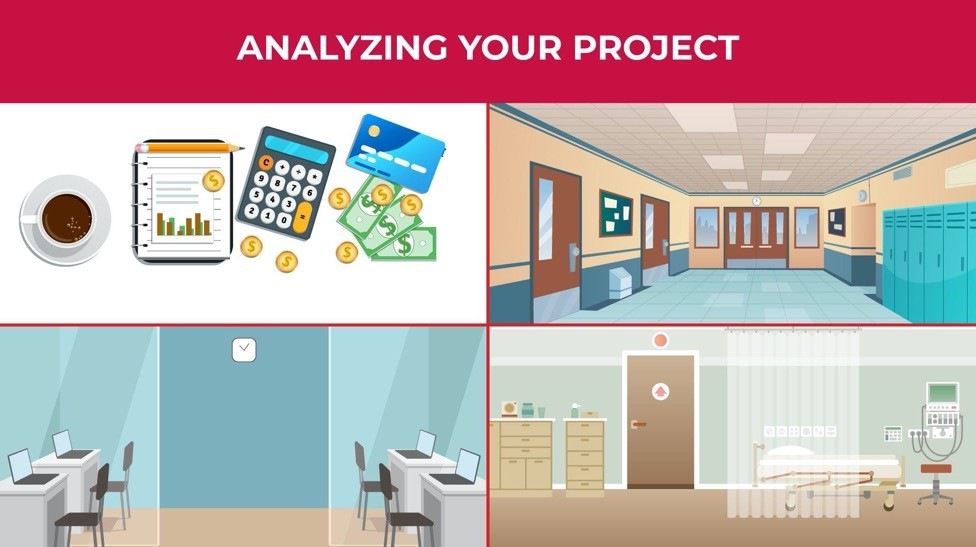 Budget and Building Type
Just like with traditional construction projects, your budget determines the scope and size of your modular building project. The bigger the budget, the more options are available to you, both in terms of building size and design customization.
When determining your budget, there are several factors you'll want to keep in mind, including building location, building features, and furnishings. When considering location, remember to include costs for land, development, and any permits that may be needed. For building features, create a list of must-haves as well as a wish list of items that you want. Furnishings are things that complete your building to be move-in ready. If you don't already have furniture and office amenities, you'll want to include costs for those, too.
Once your budget has been established, the next step in project analysis is determining the type of building you need. The use of your building—be it an office, school, or medical facility—will play a large role due to different building code requirements. For instance, schools must consider classroom size requirements, while medical facilities may need to increase floor loads depending on the equipment included in the building.
During the design process, you'll never have to worry about pulling permits if you're working with Satellite Shelters. We've constructed modular buildings all over the country and have experience working with state and municipality building codes. Our modular design experts will ensure you have the correct number and locations of restrooms, fire suppression, points of egress, and more to meet your local code requirements.
Fleet or Custom Build
After you approve an initial design, we will determine if we have a building in our fleet that meets your specific needs. In the event that we have a building on hand, we can typically ship the building to you as-is, making your project even more efficient and budget friendly. If a building in our fleet doesn't happen to fit your needs, we continue with the rest of the modular building design process, creating a custom modular solution tailored to your unique specifications.
Project Design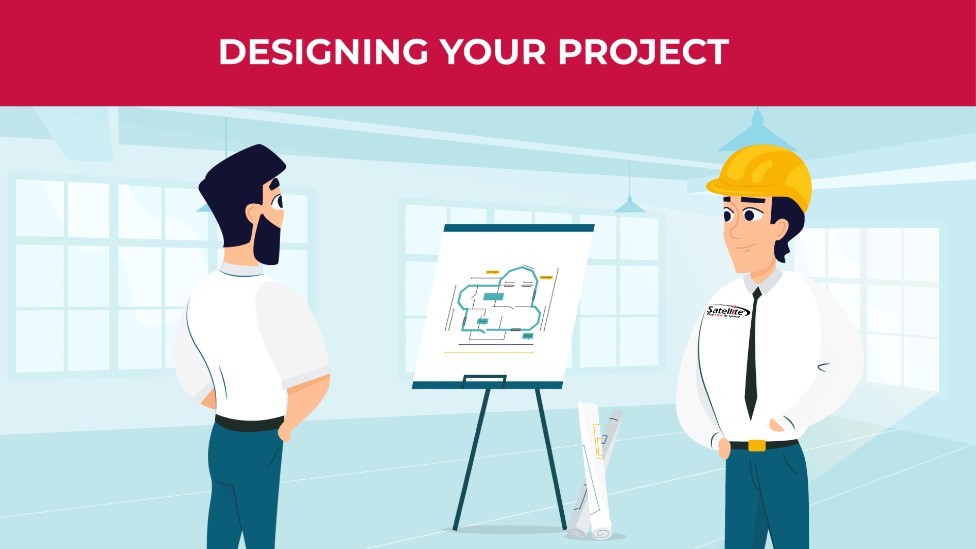 At Satellite Shelters, our modular building experts look forward to designing custom buildings for our customers. Every project presents a unique challenge, but no matter your project needs, we can design something that will work for you.
How Does the Design Process Work?
Once the analysis portion of your project is complete, we'll get to work on designing the floorplan of your building. During this process, you have total authority over what you want included in the design. After discussing your wants and needs, we'll work with you to determine a tentative floor plan. In some cases, our clients provide us with exactly what they need. For instance, they may require that the building must support 30 offices, a break area, and restrooms. Once we have this type of information, we'll get started on the floor plan. Other clients may not have exact specifications, and our designers will create a proposal. Either way, your input is vital to the design process to ensure the building is equipped with everything you need.
After we have determined an initial floor plan, we'll work with our modular engineers to finalize the design, ensuring it's feasible to construct and meets all necessary code requirements.
Common Design Features
Every modular construction project is different. Whether you're creating a space for your classroom, administrative office, or health clinic, some common design features include:
Open classrooms, computer labs, or art rooms
Open office spaces, private offices, and break areas
Exam offices and waiting rooms with reception
Fire sprinkler systems
IT and janitor's closets
Restrooms and locker rooms
Showers and/or decontamination areas
Are There Limits to Modular Design?
There are no true limits to modular design other than those imposed by your budget and financing situation. Your local Satellite Shelters expert will be able to discuss what financing options are available for your needs, but in general, you can rent, lease, or purchase a modular building.
Modular buildings available for rent may limit your design options to what buildings are currently available. Lease options for modular buildings—where we take the structure back upon project completion—also offer some limitations. Small changes may be made, but we don't typically deviate far from the original building design since the building may be used by another customer later.
However, if you choose to purchase your modular building outright, the sky's the limit for what's available. From brick siding to multi-story and custom-built building shapes, anything is possible with modular construction.
Project Construction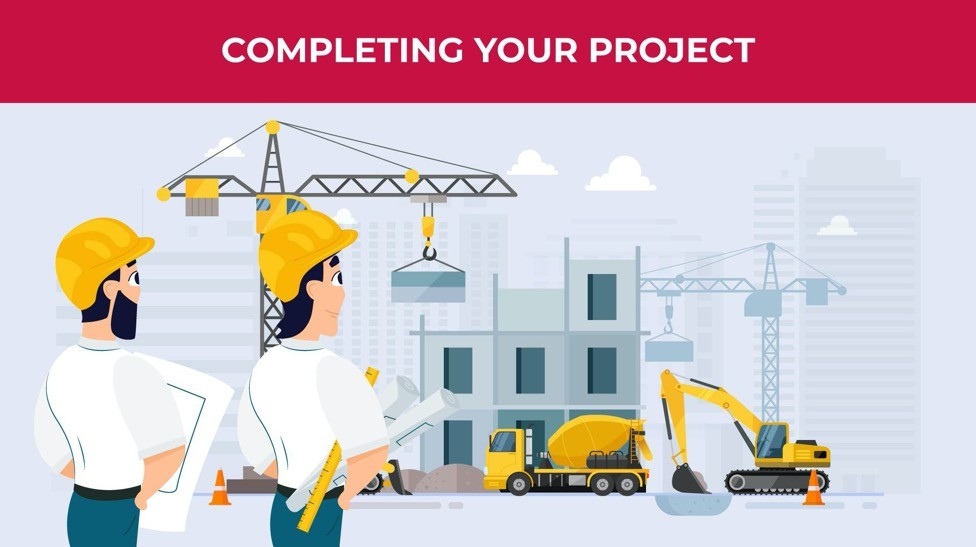 Turnkey or Contractor Solution
Satellite Shelters handles all items related to the modular building itself. This includes project analysis, design, freight, installation, and any work with subcontractors for interior and exterior finishes, ramps, and other specialty products your building may need, such as interior furnishings. As our customer, you have input on all these factors and can pick and choose what works best for your company.
There are two ways that Satellite can operate as your modular builder: as a modular partner or as a general contractor offering a full turnkey solution. As your modular partner, we will handle the modular building from design, construction, and installation while you or your general contractor are responsible for the site development.
However, Satellite Shelters is also equipped to operate as a general contractor offering a full turnkey solution. We can oversee site development and everything that goes with it. From helping to select the exact site itself to ensuring the site and building are examined by civil and foundation engineers, a Satellite Shelters turnkey solution means you don't have to worry about any aspect of the build—just leave it to us.
When construction and final inspections are complete, we will literally turn the keys over to your move-in ready, custom modular building solution.
Modular Building Construction Time
How long does it take to design a building? As you might expect, the scale and type of project have the biggest impact on construction time. With modular construction, average build times through design, procurement, and construction are faster than traditional construction. Find out how in our step-by-step timeline to modular construction.
In general, the average build and installation times of our modular buildings are as follows:
Previously used modular buildings—3-6 weeks
Custom modular buildings—8-12 weeks
Full turnkey modular buildings install—4-6 months
Site development is the main factor that can slow down the installation process, which is why a full turnkey solution takes months instead of weeks. But at max efficiency, your site can be developed at the same time your custom modular building is constructed offsite, knocking out two birds with one stone.
Custom Modular Buildings by Satellite Shelters
When considering your next construction project, consider a Satellite Shelters modular building. A modular building from Satellite costs less and is faster than traditional construction. Plus, with our design and customization options, no project is too big or too complicated.
Your project deserves the best. Contact one of our local experts today to get your custom modular building design process started.