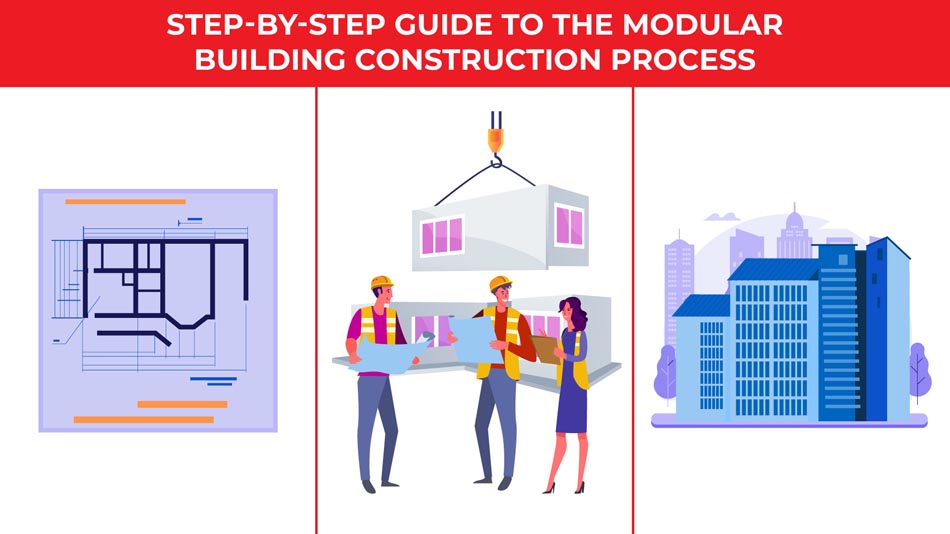 Modular buildings offer numerous advantages when compared to traditional construction. Whether you're looking to modular construction as a solution to your medical, educational, construction, or business space needs, Satellite Shelters can provide modular buildings for your company to expand and thrive.
What does the modular building and construction process look like? What should you consider when designing and constructing a modular or temporary building? And how does Satellite Shelters help clients save money through our modular expertise? We've got the answers.
Planning and Design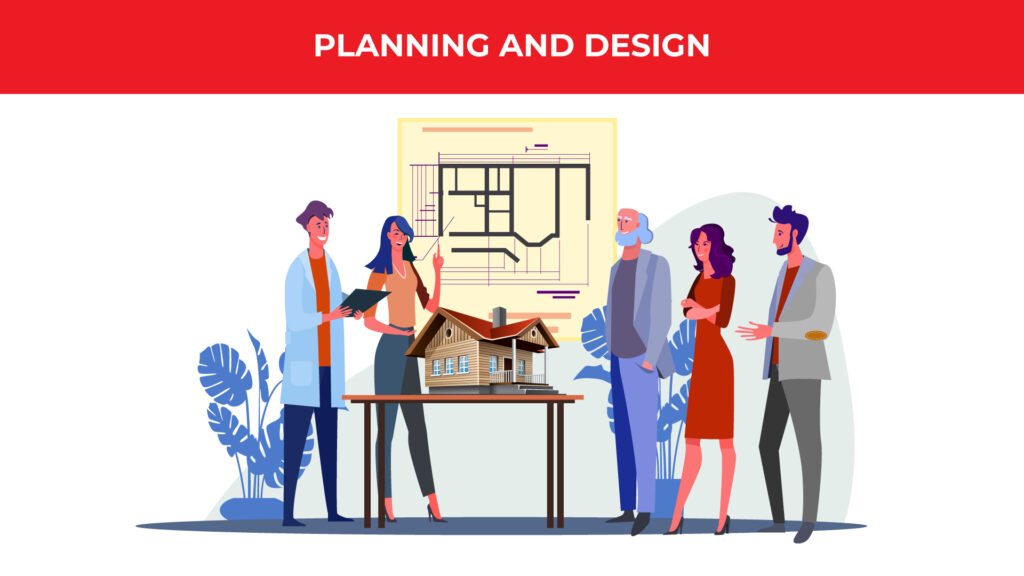 Proper planning and design are at the core of every project at Satellite Shelters. It helps keep your project within budget and, ultimately, results in a better process and completed product. Our planning process can also help identify any potential roadblocks before they happen. Total time for this phase depends primarily on your business's needs and internal approval processes, but typically we've found this phase can take anywhere from a few days to a couple months.
What are your budget and building goals?
The first step in the planning and design process is determining your budget. While modular buildings are cost-effective, they are just like any construction project in that budget constraints limit the array of solutions available to you. After all, you don't want to waste weeks or months designing and planning an intricate building only to realize you don't have the funds to complete the build, forcing you back to the drawing board.
Determining the overall goals of the project is of particular importance. Designing and constructing an office space is different from designing and constructing a school. Within these broad categories are other considerations, too: What is the square footage of the building? How many people will need to use the building? What is its specific purpose? The building will also need to comply by the specific state or city ordinances and codes for the specific building use.
Once we've agreed on budget, purpose, size, and goals, we can then tackle specific things that you might need for your building. While HVAC systems come standard on our units, you might need other things such as:
Break Rooms
Kitchenette
Conference Areas
Restrooms
Locker Rooms, etc.
How long do you plan to use the building?
Within modular construction, there are two main subcategories. What category your building falls into will depend not only on its purpose but also how long you'll need to use the building.
Mobile buildings are designed to be constructed quickly, are reusable, and are easily transportable. These buildings are ideal for short-term projects that have end dates, such as construction projects, hiring trailers, temporary guard shacks, or special events.
Modular buildings can be used as a semi-permanent building for long-term projects or a permanent solution to your building needs. These buildings are configurable, customizable, and expandable as needs change.
Depending on how long you need your building, we help you decide if a custom-built solution is right for you or if a previously used building from our fleet is a better solution. Our mobile buildings fleet consists of mostly stock buildings that are quickly deployed and de-mobilized. Otherwise, custom-built modular buildings can either be purchased or leased—however, these options are best for longer-term, modular projects. And there's no need to worry about the quality of the building you get from Satellite Shelters; we have one of the newest fleets in the industry. Each building undergoes rigorous inspection and cleaning prior to being sent to your site.
Permits, Codes, and Site Development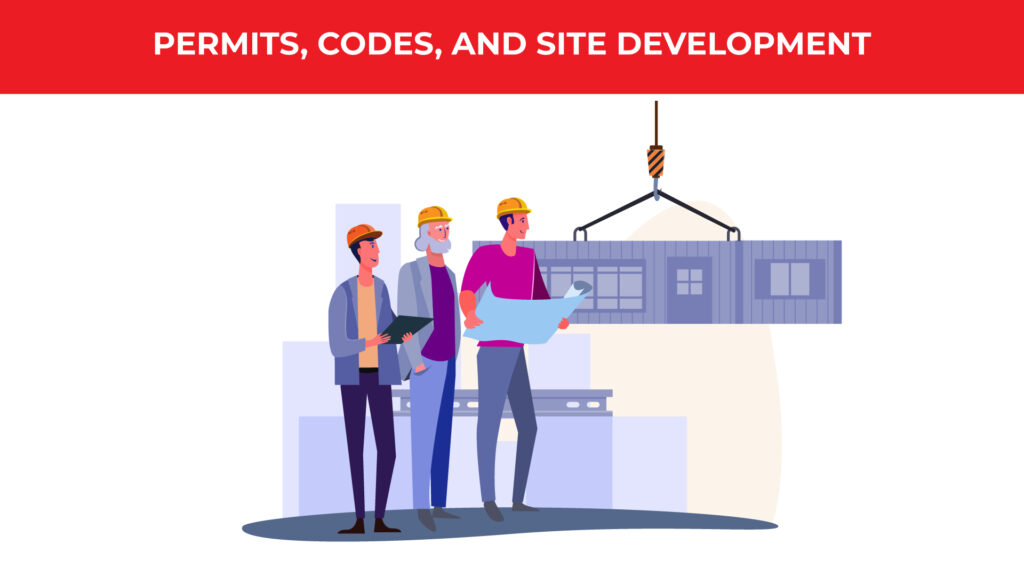 After we have determined what kind of building you need and how long you need it for, the next step involves lining up the permits and getting your build site ready.
Does modular construction require special permits?
The code and permitting process for modular construction is similar to the process for traditional construction. City, state, and county governments alike require that buildings be constructed up to code. Whether these buildings are designed in a modular fashion and whether they are designed for long-term or short-term use isn't relevant as long as they meet local government standards. Your local Satellite Shelters representative will work with you to ensure your building is coded correctly for your location.
However, codes and permits do differ drastically by location, and these regulations can vary even under relatively short distances. For instance, rural Texas may have different standards than the safety regulations of Houston proper, which itself may have slightly different requirements than its suburbs. That's why it's important to work with a local supplier for your modular building needs.
In addition, permits vary not only by location but by type of building, as well. While there is some crossover between commercial and industrial building codes, medical and education buildings have a separate set of requirements (and even a high school and elementary school will have different requirements).
Site Development and Responsibility
Every modular building needs a good site on which to rest. A good modular construction site has level, compact ground with clear and open space. Different types of foundations can be installed depending on the soil firmness and type of building. Your site may require surveying, grading, drainage, and other preparation work.
At Satellite Shelters, we pride ourselves in offering nothing but the best in modular building solutions. Whether this is your first project or your 40th, we work with you through our modular building design process to get you up and running. If you're comfortable with site preparation and permit work, we can simply provide the building. Otherwise, we offer turnkey solutions—which include site development—so you can sit back and let our experts work for you.
Construction, Transport, and Installation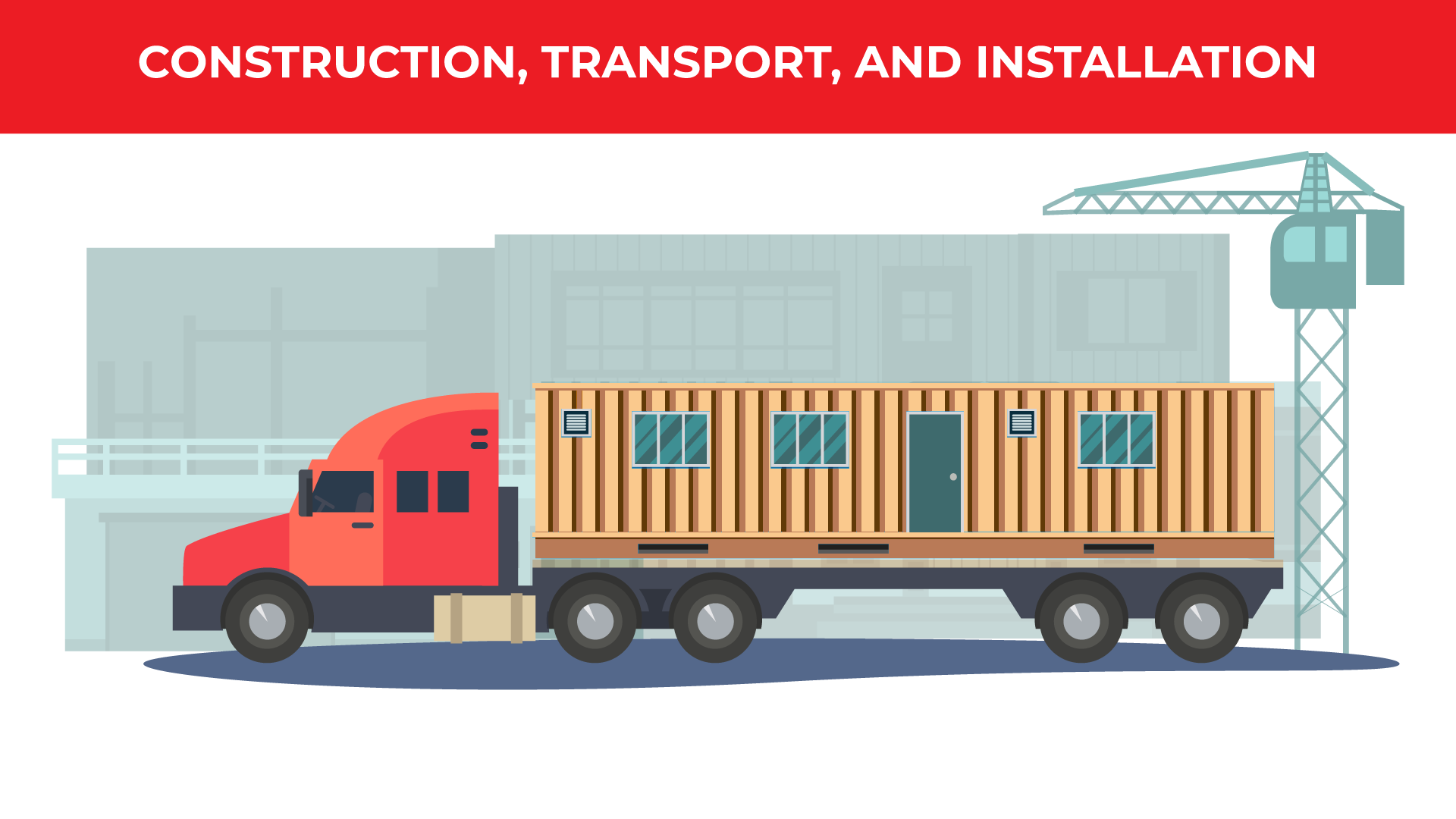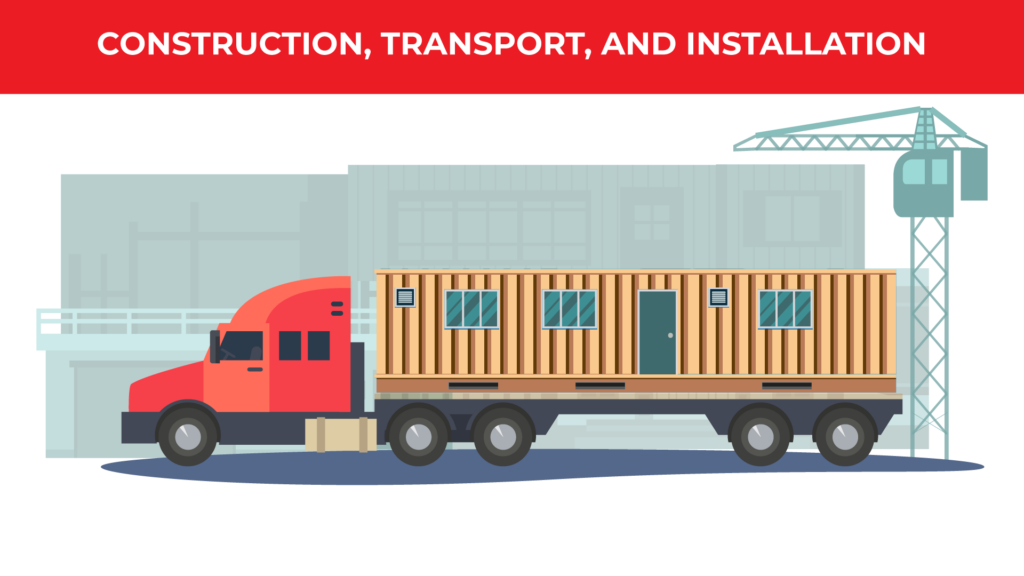 Planning and permits are only part of the timeline. It's the construction and installation process that truly sets modular construction apart from traditional construction.
How will your modular building be constructed and transported?
We partner with factories to have your modular building constructed in pieces that are easy to assemble. Our expert construction staff designs for efficiency to make the process cheaper for you. By moving rooms around to minimize the amount of labor done in the field, we decrease overall costs to let your dollar stretch further.
The most important quality of a build site is accessibility. Your modular building will be shipped in pieces as wide as 14 feet and as long as 60 feet. These oversized loads require trucks to be able to maneuver to the construction site, and it may be necessary to utilize additional heavy machinery, such as cranes, to assemble your building.
How long does a modular building take to construct?
Modular construction is significantly faster than traditional construction. The start time to finish time, or critical path, of conventional construction is sequential. In other words, you can't start the next step of the building process until the previous process is complete. For modular construction, you can operate concurrently—meaning you can construct your building while your site work is being completed, for instance.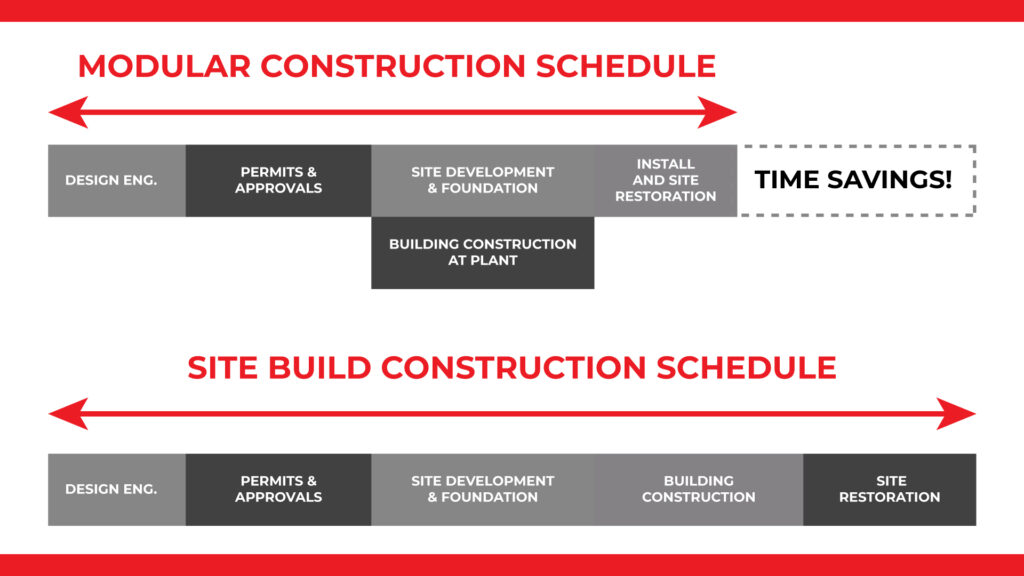 The time between design approval and building construction can range from four to 16 weeks depending on production line times and the size of your project. However, once all the modules are shipped to your site, a modular building can be assembled in as little as a day.
Satellite Shelters: The First in Modular Space
The modular building construction process involves many moving parts, including project analysis, planning, building design, permit work, construction, site development, transportation, and assembly. Thankfully, Satellite Shelters' Design and Build teams are highly skilled and understand every part of the modular construction process. Whatever kind of modular building you need—be it a short-term mobile office or a long-term, custom-built modular building—we're ready to help. Contact your local Satellite Shelters office today!