Whether you're looking to add a breakroom on your job site, open some conference room space, or set up training rooms, mobile offices are an ideal solution. A fast, simple solution, these temporary spaces are versatile and come in a wide variety of sizes.
But the question inevitably arises: which size should you choose? Should you go with a small office trailer or a double wide modular office? At Satellite Shelters, we help customers across the country decide on the perfect office trailer for their needs. Here's our guide.
What are Office Trailers?
Mobile office trailers are a type of modular building that is designed for temporary use. Also called mobile office buildings or portable office trailers, office trailers are used by a variety of industries and are usually rented on a month-to-month basis.
Satellite Shelters provides well-equipped, high-quality office trailers. Some common office trailer features include:
Desks and plan tables
File cabinets and overhead shelving
Electric HVAC systems
Bright, fluorescent overhead lighting
Private offices (in certain models)
Restrooms (optional)
What are Common Office Trailer Sizes?
Office trailers come in a variety of sizes, and the Satellite Shelters size guide is the perfect reference guide for information about office trailers. We've also assembled additional, expanded information below.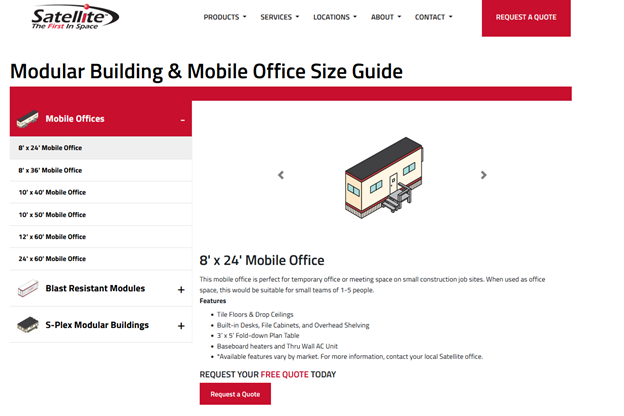 Single Wide Office Trailers
Single wide office trailers are small office trailers that are 12 feet or less in length. The smallest building that you can order is the 8×24 mobile office trailer. These one-room offices are cost-efficient and are suitable meeting spaces for a few people.
Single wide construction trailers come in 8 foot, 10 foot, and 12 foot widths with the 12×60 mobile office trailer as the largest single wide unit available. Standard single wide sizes include:
Each size is ideal for a different set of needs and can be equipped with a different variety of amenities, including restrooms and offices.
Double Wide Office Trailer
The double wide office trailer—also sometimes called the double wide modular office—is a 24×60 mobile office that gets its name because it is essentially two 12×60 single wide offices fused together. These office trailers are ideal for longer-term projects or for projects with more foot traffic.
At Satellite Shelters, our standard 24×60 double wide office trailer includes four offices and a pair of ADA restrooms which surround a large central work area. Other features, such as a janitor's closet or equipment closet, can also be installed.
What Factors Should I Consider When Choosing a Trailer?
The right sized office trailer is the trailer that adequately meets your needs and can comfortably fit your staff and equipment in the space. Here are some of the factors that will help you make that decision.
Number of Occupants
The single largest factor you need to consider when choosing an office trailer is determining how many occupants are going to use the space. You'll need to consider foot traffic and restroom needs of said occupants.
You'll also need to determine how many private offices you'll need. Our standard office trailer sizes differ in terms of how many offices they can support:
8×24— two open desks
8×36—one office
10×40—two offices
10×50—two offices
12×60—two offices
24×60—four offices
Use of Building
Mobile offices can be used for a variety of purposes, and what purpose you will be using your office for will help determine what size do you need. Are you looking for a temporary meeting room? A small office trailer will probably do the job. Need a break room or lunchroom? Consider a medium office trailer. Need office space for onsite foremen or as a temporary headquarters? A double wide office trailer will probably suit you well.
How Long You'll Need the Building
While mobile offices can be used for a longer-term project, their strength is in temporary projects. Mobile offices are quick to deliver and install, and equally quick to remove and transport.
If you're looking for a semi-permanent building and are interested in modular construction, Satellite Shelters S-Plex buildings offer an expandable space solution for long term projects. S-Plex modular buildings are constructed from two or more of three different designs and can be mixed and matched as needed. This allows for larger buildings while keeping the simplicity and efficiency of modular buildings.
Delivery Site Considerations
The final piece of the puzzle when deciding on mobile office size is the delivery site. Both the size and configuration of the delivery site need to be considered. Mobile offices are delivered by a Toter truck, which pulls the unit, or a flatbed truck. The larger the building, the larger the truck required to deliver. That delivery truck must be able to enter the delivery site, turn if necessary, and exit safely.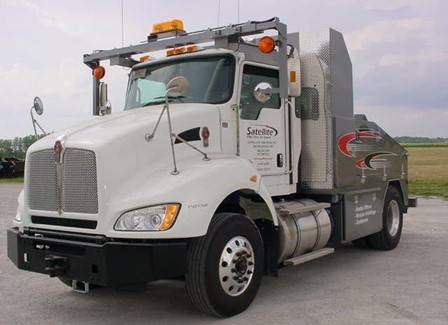 Should your delivery site not be large enough to install the size that you prefer, consider installing multiple smaller office trailers. This will ensure that you get the space you need while keeping the delivery and retrieval process safe for all involved.
Contact Satellite Shelters for Your Office Trailer Today
Mobile office trailers are powerful tools for any business in search of an economical, flexible, and efficient way to add space to their worksite or campus. Satellite Shelters is The First in Space, and we're here to provide nothing but the best office trailers around. Find your local Satellite Shelters location or request a free quote today.