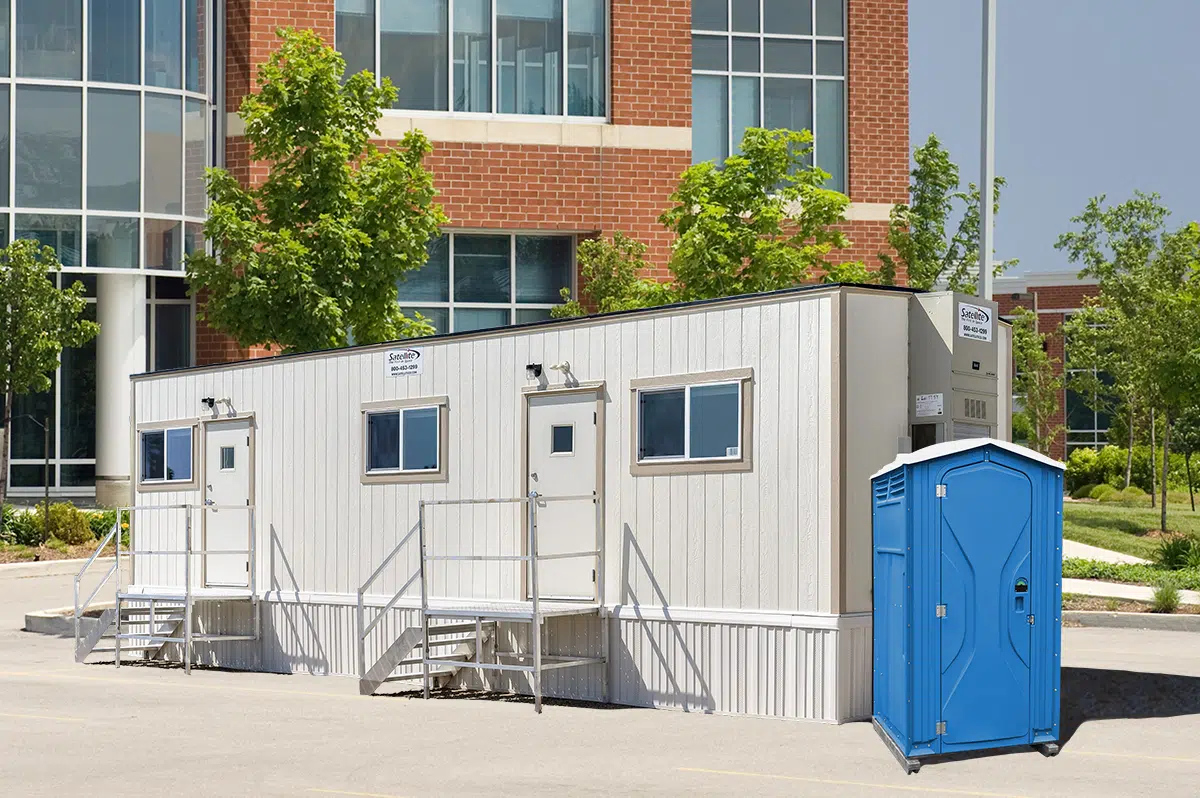 No matter the size of your job site, mobile offices are a great way to add temporary space. Job site construction trailers can be used for all sorts of purposes, from mobile construction offices to a meeting space, lunchroom, break room, and more.
Here at Satellite Shelters, we're The First in Space when it comes to mobile and modular buildings. Let's explore some of the purposes that a construction site trailer can be used for, and how you can add one to your own job site.
What can you use construction offices for?
Mobile offices are one of the most convenient and cost-effective types of buildings available to contractors. While the standardization of construction trailers makes installing them easy, that doesn't mean you'll be limited by them. Mobile offices come in a wide variety of sizes, from single-wide 8×24 units to double-wide 24×60 construction trailers.
Here are a few of the common ways that our customers use their construction trailers.
Offices and Meeting Spaces
Need an office for an onsite foreman or a space to hold meetings? An office trailer is a great choice. Depending on the size of trailer that you can fit in your workspace, our mobile offices can accommodate anywhere from two to four private offices—and all sizes offer viable meeting space. If your site needs more than 4 offices, additional buildings can be installed on site to accommodate all staff using the space.
Restrooms, Kitchens, and Breakrooms
Every job site needs to have the essentials. Mobile offices come standard with HVAC systems providing comfort in hot and cold conditions. Office trailers are ideal for breakrooms, providing space on site so workers don't have to leave to take their breaks. Many of our mobile office designs can also be equipped with restrooms and kitchens, giving employees a fully functional space to enjoy their break.
Headquarters and More
Our job site construction trailers aren't just for break rooms or offices. They can be used for a variety of other uses as well, including:
Meeting spaces
Architectural design spaces
Engineer Office
Sales offices
Customer offices
And more
Where can mobile offices be used?
Mobile offices are an extraordinarily flexible option and can be used at every stage of a construction project. Whether you're just starting a yearlong process or are going through a renovation that will just last a couple months, the flexibility and quick installation of mobile offices is unmatched.
Best of all, mobile offices require very little space to install. If you have the square footage available for the unit you want to install, that's almost all you'll need – no other construction equipment needs to take up space around the building. It is, however, important that you make the site accessible for the delivery truck. The truck must be able to enter, exit and safely turn around if necessary to drop off your mobile office.
Specialty Products and Furniture
When you order a mobile construction office or job site trailer from Satellite Shelters, you can also add a variety of specialty products to your building. As a one-stop shop for your modular building needs, we're happy to help provide the accompanying items so that you won't have to scramble to fill your mobile office with what you need. Some of our specialty products include:
Hand sanitizer dispensers
Storage containers
Fire extinguishers
Portable restrooms
Steps and ramps
Skirting and tie-downs
And more
Additionally, Satellite Shelters can provide individual furniture and even furniture packages to fully complete your space, so you can get it and get right to work.
How can you acquire mobile offices?
At Satellite Shelters, we know that every job is different and that every organization has their own financial needs. That's why we're committed to providing multiple payment and purchase options. We offer new construction trailers, used construction trailers, and construction trailers for rent.
New Construction Trailers for Sale
Looking for a new mobile office that will best fit your project? Choose between our available mobile office sizes or work with a Satellite Shelters local expert to construct a building and choose which customization options you need. From there, we'll assemble your trailer at our factory and get it delivered to you.
Used Construction Trailers for Sale
If you'd like to own your building and have full control over the customization, a used construction trailer might be for you. Browse our available inventory of used construction trailers to see if a used option could fit your requirements.
Construction Trailers for Rent
Satellite Shelters also provides rental options for construction trailers as an alternative to purchasing new or used trailers for organizations that are interested in renting their construction trailer. You can rent new or used construction office trailers at Satellite Shelters. But don't worry, all of our used units undergo a 52 point inspection, including cleaning and repairs prior to being put back out on rent. So you know you'll always get a quality, safe building from Satellite.
Find the Best Job Site Trailer for You
No matter if you need space for staff working on a multi-million square foot project or a trailer for a small downtown project, Satellite Shelters has your back. Our quick modular solutions allow us to rapidly scale up with your needs and still provide a great product, as we did for a windfarm project in Clear Lake, IA.
Taking the next steps on your project is easy. Simply Find your local Satellite Shelters location or request a free quote today. We're here to help turn your construction dream into a construction reality.