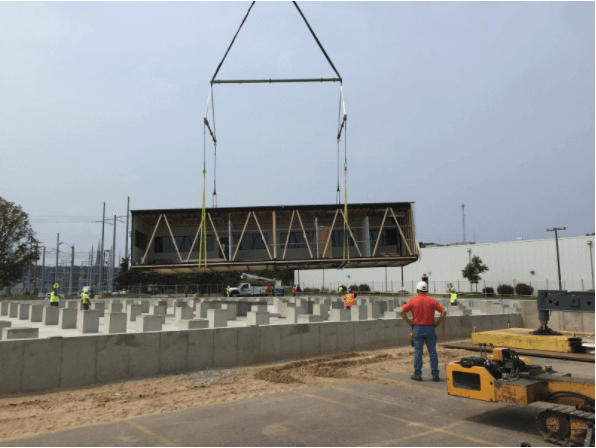 Many people are turning to modular building construction as an affordable and efficient space-creating solution. Since modular buildings are created offsite in sections, they make it easier for you and your employees to get into a comfortable, work-friendly building quickly. Conveniently, these affordable spaces can be used for permanent, long-term, or temporary facilities—making them a popular choice for classrooms, administrative offices, military housing, and more.
If you're considering modular construction for building a new office or workspace, what can you expect from the modular construction process? At Satellite Shelters, our modular building construction experts have created this five-step guide to the basics.
1. Manufacturing Offsite
When it comes to manufacturing a modular building, quality control is key. At Satellite, our buildings are prefabricated in a factory-controlled environment. By doing this, our modular construction experts can ensure the process is done efficiently with less waste, in terms of both time and resources, than a traditional building.
2. Foundation and Site Work
As the modular sections are being built at the factory, site work is being completed simultaneously. Two separate crews are in constant communication and collaboration with one another to ensure the same timeline is being followed and project milestones are met by deadlines.
3. Delivery and Assembly
After modular pieces are constructed and site work is complete, the modular building is then safely delivered to the worksite, and individual sections are assembled. This is when your modular building begins to take shape!
4. Interior, Exterior, and Landscaping Finishes
Once your modular building is constructed on-site, it's all about the details. Interior work begins, such as painting and furniture delivery. As this happens, exterior work and landscaping are also being done. This is the phase in which your modular building will be completed and becomes move-in ready.
5. Project Completion
As the final step in the modular building construction process, keys and ownership to your space will be transferred to you—meaning it's time for you and your employees to get started using your new building!
Request a Quote from Satellite Shelters Today
No matter if you run a construction site, own an expanding business, or plan to build your first office space, you can turn to Satellite Shelters for your modular building construction. With flexibility, durability, and available customization, modular buildings are your go-to solution when you need more space. If you're interested in temporary or permanent modular building construction, request a quote from your local Satellite Shelters experts. We look forward to being The First In Space for you and your team!