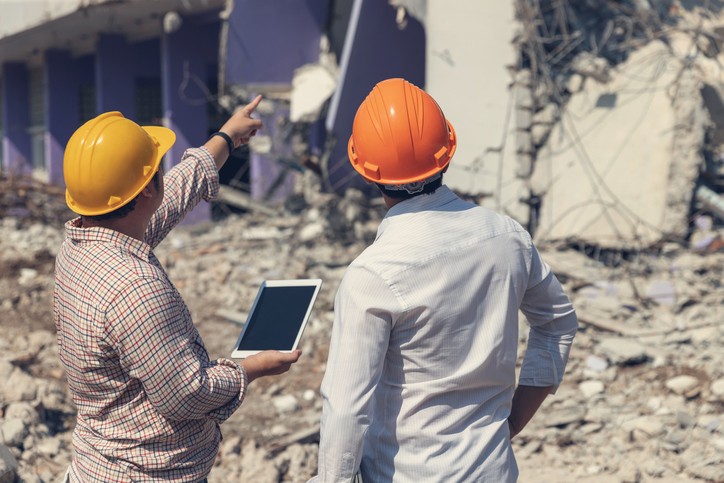 Natural disasters happen. They can be scary, dangerous, and abrupt. More often than not, we think they won't or can't happen to us. But what happens when they do?
It is essential to determine what you'll do if (or when) a natural disaster happens at your place of business. This plan should involve immediate reactions—such as evacuation plans, where to find safety kits, and clear directions on what to do during an emergency—but also needs to cover how you will handle things once the dust settles. A solid emergency plan includes basic questions such as:
How soon will we attempt to resume operations?
What will we do if our facility or office is damaged by weather, fire, or other conditions?
Are we able to transition to remote work for some or all employees?
How quickly can we rebuild?
What resources will we need to get operations up and running again?
Putting together a business continuity plan or a disaster recovery plan doesn't have to be hard. While there are plenty of logistical concerns to consider, Satellite Shelters can help answer a few of your questions and make the process of recovering from a natural disaster smoother.
Rebuilding Your Facility or Office After a Disaster
If you know that rebuilding is in your future, consider modular construction.
Using modular buildings for disaster relief gets you back up and running as much as 35% faster than traditional stick-built construction. The quick turnaround time is due to our ability to build off-site while your site is being prepared with foundations, utilities, and other necessities. Once the site work is complete, your modular building is delivered to your location and assembled using our modular construction process. There's no need to wait for materials to arrive or worry about weather delays or other hindrances.
Modular construction also helps with cost. The tighter inventory control and improved manufacturing processes cut down on material waste, and the factory environment keeps building materials safe from weather deterioration that could occur on a traditional construction site.
To learn more about how Satellite Shelters combines building design and construction into one hassle-free solution for your space needs, read our guide to modular building design.
Renovation After a Natural Disaster
Sometimes a building, structure, or complex may not be a total loss, but renovation and restoration is still necessary. If this is the case, consider using a mobile office or temporary modular building while your permanent facilities are repaired and remodeled. Using our temporary structures during the disaster relief process can help get you back up and running with minimal downtime.
Because our buildings are easily deployed and can be set up quickly, they can remain on-site until you finish renovating. In addition to mobile offices and administrative offices, our products include:
Portable classrooms
Conference and training rooms
Cafeterias and lunchrooms
Storage containers
Custom modular buildings
We can even supply the necessary office equipment, furniture, and other products or services you need to continue business as usual.
Continuing Services After a Tornado: Vilonia United Methodist Church's Story
An EF4 tornado passed through Vilonia, AR, in 2014, causing millions of dollars in property damage. Watch the video below to learn how Vilonia United Methodist Church, whose existing space had been destroyed in the storm, used modular construction to continue services for their congregation:
Consider Modular Construction as Part of Your Disaster Recovery Plan
No one likes to think about disaster striking, but it's critical that you're prepared. With a national network of resources, Satellite Shelters is here to help.
If you're curious about the benefits of modular construction for your disaster recovery plan—or any other business continuity needs—reach out to our local team of modular experts today.