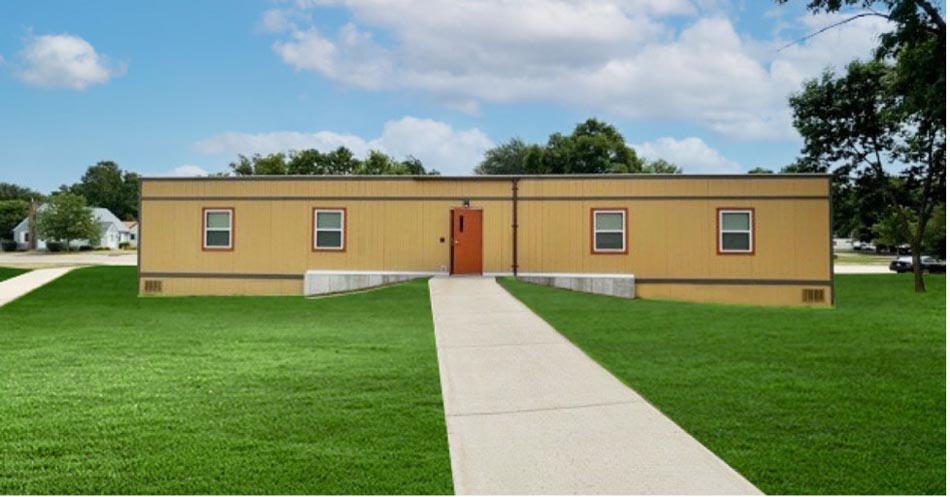 Modular and mobile classrooms help schools ease overcrowding, react rapidly to an increase in enrollment, and provide learning space during building renovations. Portable classrooms provide the optimal educational experience for students and teachers and help save money while adapting to your growing needs. At Satellite Shelters, we offer both new and used portable classrooms to quickly create the space your school is seeking.
What exactly are modular classrooms like, and how can the buildings be customized? Get all your questions about portable classrooms answered with Satellite.
Portable Modular Classrooms FAQs
What is a modular classroom?
Portable classrooms are a type of modular building that are built and coded for schools or other educational facilities. They are constructed off-site with prefabricated materials in a factory-controlled setting. If your school is feeling the effects of overcrowding, mobile classrooms are designed to provide permanent or temporary classroom or office space. If you choose to rent a classroom for temporary use, the buildings may be removed from the site once you no longer need them.
What materials are used to build portable classrooms?
Some of the specific materials used to build a modular classroom include:
Wood-paneled exterior siding
Vinyl-covered gypsum walls
Vinyl tile or carpeted floors
Rubber or shingle pitched roof
Similar to the process for conventional structures, prefabricated classrooms and buildings are subject to rigorous standards to ensure soundness. Thus, portable classrooms must be compliant with the International Building Code (IBC). Being constructed in factories, they also must pass multiple inspections for quality control purposes at both the state and the local level.
How big are portable classrooms?
Standard dimensions for a portable classroom is 24'x60' with two floorplan options (with or without restrooms). For larger or different size options, custom modular design and builds are always available. To find which solution works best for your needs, contact your local Satellite Shelters branch.
What can portable classrooms be used for?
Portable classrooms offer a variety of solutions for issues that schools, campuses, and daycares face. There is a wide range of benefits of portable classrooms. For instance, a few of the most typical reasons a school may need a modular building include:
Overcrowding
Increased enrollment or spike in student population
Extra space during construction or renovation
Budget cuts or financial hurdles to adding more space
Damage (such as from mold or a natural disaster) in the main building
What kinds of rooms can portable classrooms accommodate?
Portable classrooms are convenient solutions that offer space comparable to a traditional classroom setting, plus even help support social distancing practices by creating more room.
Aside from serving as classrooms, modular buildings can be used for:
Cafeterias and lunchrooms
Corridors and reception areas
Administrative offices
Nurses' offices
Libraries
Science labs
Computer rooms
Music rooms
Locker rooms
Dormitories
Gymnasiums
Sports equipment storage
What features, amenities, and customizations can be added to portable classrooms?
Standard portable classrooms come with electric HVAC systems, fluorescent ceiling lights, and sliding windows. No matter how creative you want to get with personalizing your modular classroom, here are some examples of other specialty products and add-on features that can be included:
Furniture (chairs, tables, desks, etc.)
Handwashing stations and hand sanitizer dispensers
Custom cabinetry and countertops
Whiteboards and cork boards
Lockers
Tile and carpet flooring options
Storage containers
What safety and accessibility features are portable classrooms equipped with?
If you're worried whether portable classrooms will provide the optimal space solution, rest assured that the standard to which they're built is not all that different from traditionally constructed buildings. One myth about portable classrooms is that they have poor air quality. However, just as would be required of any traditionally-built school building, mobile classrooms must meet state building codes—including proper ventilation systems that help maintain healthy air quality and a comfortable atmosphere.
In addition, the structural stability is equal to any traditionally built classroom or school building. Since portable classrooms are constructed within a controlled setting in a factory, they undergo rigorous quality and safety checks. Even after a modular classroom has been inspected at the factory, it must pass state and local inspections after installation as well.
When it comes to making modular classrooms accessible and safe, other amenities may be included, such as:
Fire extinguishers
Steps and ramps
How long can portable school buildings last?
Portable classrooms can last as long as buildings constructed by traditional means. If you choose to buy a modular school building, you may keep it to use for as long as you'd like. Otherwise, renting or leasing a mobile classroom is a convenient solution, too, as they can easily be removed or relocated based on the needs of your school.
Are modular classrooms ideal for temporary or permanent space solutions?
Although temporary classrooms are commonly needed, customers are not limited to short-term use if they're seeking a permanent, long-term solution. Modular construction is a comparable option to traditional construction, so your need for a temporary versus permanent classroom mainly depends on the scope of your project.
Can I rent or purchase a portable classroom?
If you plan to have your modular classroom on site for the short term, renting or leasing is a good option. If you plan to keep the building for longer-term or lifelong use, purchasing may be a better choice. Satellite Shelters offers multiple financing options for our portable classrooms, allowing clients to rent, lease, or buy. Satellite's local experts can help you choose the best option for your situation.
Secure Space for Your School with Satellite Shelters
With portable classrooms and modular construction, schools across the country have overcome challenges presented by overcrowded classrooms—thanks to quickly-constructed buildings and budget-friendly options.
Satellite Shelters provides modular classroom options suited for educators, students, and administrators. Contact us today to request your free portable classroom quote, or find your nearest Satellite office to talk to a local representative!