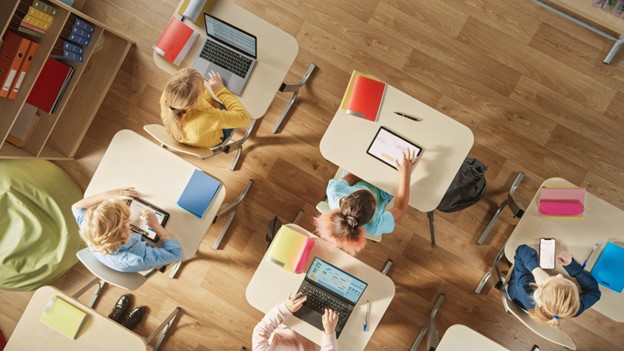 Schools have one the hardest jobs of all: educating the next generation of workers, thinkers, and leaders in the United States. While all schools would have more than enough funding in a perfect world, the reality is schools must make hard decisions on how best to use their operating budget—decisions that include how much classroom space is available.
However, studies about overcrowded classrooms have shown they can lead to an increase in disciplinary problems, less personalized instruction, and even an increase in illness risk. It's never been more important to have the space you need when you need it.
Fortunately, there's a solution to ever-tightening budgets and short construction windows: portable classrooms. Also called mobile classrooms, these buildings can provide high-quality educational space faster than traditional construction. Best of all, these portable classrooms can provide great space solutions to a wide range of schools. Here's how.
Why Modular Construction is the Ideal Educational Solution
For schools and educational institutions of all types, traditional construction is an option for longer-term projects. But for short-term space needs, auxiliary facilities, portable classrooms, and similar needs, modular construction is the best option.
That's because modular construction is, in most cases, significantly quicker to get off the ground. Site prep can occur at the same time as the building is built in the factory, and erecting the building at the final location is quick, too. Plus, used modular buildings are available for purchase, lease, and rent, and could offer the possibility for even faster installation.
School Types That Benefit from Portable Classrooms & Modular Education Buildings
Public Schools
Operated by: State governments, local school districts, and publicly elected school boards
Enrollment requirements: None. School location is determined by home address
Attendance fee: None directly; school budgets are paid via taxes
Bottom line: Public schools serve a wide variety of students and have a dependency on local population growth and government for funding
Case Study: Wiley Middle School
The need for portable classrooms at public schools is simple: since public schools don't charge tuition fees and are funded by the government, there is little to no limit on enrollment levels. As a result, public schools need a flexible way to accommodate these fluctuating enrollment levels. Portable classrooms from Satellite Shelters offer this flexibility.
Private Schools
Operated by: Private companies or nonprofit organizations
Enrollment requirements: Varied. Some schools have strict enrollment requirements, while others are open to most or all students who wish to attend
Attendance fee: Funded via tuition fees
Bottom line: Private schools vary widely in their demographics and enrollments, but one thing all private schools share: they are all dependent on tuition to operate
Case Study: Owatonna Head Start
Private schools can be run by for-profit or secular nonprofit organizations. While they can control how many students they welcome, tuition fees are their main source of funding. Classroom solutions from Satellite Shelters make a great choice for private schools looking to expand or grow their enrollments.
Parochial Schools
Operated by: Parishes, churches, and other religious organizations
Enrollment requirements: Like private schools, parochial schools vary in terms of enrollment requirements but can also have additional religious affiliation requirements
Attendance fee: Funded via tuition fees
Bottom line: As a type of private school, parochial schools share their benefits and drawbacks—but all parochial schools are run by nonprofits, resulting in additional operating challenges
The case for parochial school portable classrooms is just like the case with private schools. But since parochial schools are often run by nonprofits, this can often present a challenge with smaller budgets and construction windows than with secular for-profit private schools. Luckily, Parochial Schools can save up to 35% on their construction time by choosing to use Satellite's Modular Construction process.
Charter Schools
Operated by: A wide variety of organizations, including corporations, nonprofits, churches, and even school districts
Enrollment requirements: Open enrollment, as charter schools must take all applicants. As a result, lotteries are often implemented when there are too many applicants
Attendance fee: None. While funding rules vary from state-to-state, most charter schools receive taxpayer money for operation
Bottom line: Charter schools must distinguish themselves enough from public schools to draw students away from public and private options, and they must supplement funding with donations
Case Study: KIPP Foundation Texas
Charter schools are a blend of public and private educational models and must provide high quality education in order to draw students away from local districts. This means they can't risk having overcrowded classrooms. Luckily, with modular classroom solutions from Satellite Shelters, they don't have to.
Magnet Schools
Operated by: State governments, local school districts, and publicly elected school boards
Enrollment requirements: Unlike public schools and charter schools, magnet schools can have admissions criteria, and lotteries can also be implemented
Attendance fee: None. Magnet schools receive tax funding, but getting into a magnet school can be difficult due to their specialized curriculums
Bottom line: Magnet schools provide advanced or specific focused curriculums, usually designed around STEM or the performing arts. But at their core, they are still public schools with everything that entails.
Magnet schools offer unique educational experiences. They therefore need additional space to accommodate those experiences—whether its portable classrooms for students or administrative offices for teachers and staff. Satellite provides modular education solutions like S-Plex modular buildings and custom modular designs, to accommodate the specific needs and curriculums of magnet schools.
Choose Satellite Shelters for Your Classroom Needs
No matter if you run a preschool or are on the board of a public school district, you should study up on portable classrooms and modular education space solutions for your next building project. Able to be installed quickly, these mobile classrooms come well-equipped with HVAC systems and even restrooms. When you're ready to get started, find a Satellite Shelters location near you or simply request a quote online today!